UnNews:Paparazzo describes Sussex chase catastrophe
Jump to navigation
Jump to search
| | |
| --- | --- |
| | This article is part of UnNews, your source for up-to-the-picosecond misinformation. |
20 May 2023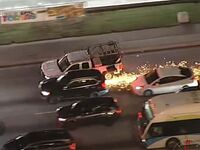 NEW YORK -- An asthmatic paparazzo whose mobility scooter was blamed for Prince Harry and Meghan's New York car chase has spoken out about the incident, describing it as a "catastrophic experience".
The photographer said he was under contract with the Duke of Sussex's Archwell Productions to get an upskirt shot of the Duchess as she climbed into her vehicle. However the couple decided at the last minute on the back entrance, and didn't tell him where they were being picked up either.
Harry and Meghan's spokesperson said the couple were subsequently subjected to a "relentless pursuit involving a dozen armored SUVs, flanked by open-topped jeeps with cameras on outriggers, like in Sicario when they go to Juarez to kidnap a Capo", in a statement released on Wednesday.
The paparazzo conceded his mobility scooter was faster traversing the sidewalk than the Sussexes' car, which was down to a crawl on the heavily congested New York streets, to the extent that he had just enough time to nip into Dunkin Donuts while the Royal couple were stuck behind a garbage truck.
Prince Harry has spoken of his anger at the paparazzo's actions, comparing the sedentary photographer's habits to "a pack of dogs" like those who hounded his mother to her death. He said, "To see another woman in my life witness this feeding frenzy — that's hard, there was jam and cream over his shirt and everything, like a burst zit on wheels. Is this in the Second Amendment too? What a screwed up place."
The photographer described the chase in more detail: "I was hoping they were going to a restaurant so I could get another stab at the money shot," he said, "but they just kept driving around in circles, until eventually my battery died."
"Colleagues warned me anybody involved with this pair ends up burned… Oprah… Netflix… the Prince's ghost writer… the British Armed Forces… the King of England… their neighbors in Montecito, who are now, sadly, subject to a jihad."
He was adamant he did his best, even knocking on the window while the Royals were gridlocked, asking politely if he could snap her Highness' asshole while stationary, but she said he was on the phone getting her Oreoes gold-leafed and a platform at the next UN assembly.