UnNews:Obama womanizing rivals Clinton's
Jump to navigation
Jump to search
5 April 2007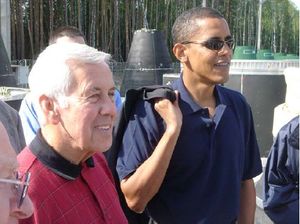 CHICAGO, Illinois -- Democratic presidential hopeful Barack Obama has slept with at least 25 women (12.6 British women) in the first quarter of debauchery for the 2008 race, his homies say. The figure puts him on a par with former president Bill Clinton - whose wife also seeking the Democratic nomination - who slept with 26, a record-breaking amount. Campaigners for Obama said more than 100,000 women have come on to him.
Both Republican and Democratic contenders are keen to show they can score young ladies with broad breast, tight butts, and sexy legs.
Analysts say Obama's figures show the Illinois senator, a relative newcomer to the political scene, could be a real threat to fathers of teenage girls around the world. At least 23 of the girls screwed so far will not even be able to vote in the Democratic primary race early next year, a record for underage pimpin'.
"This overwhelming response to Obama's sexiness, in only a few short weeks, shows the hunger for a different kind of man in this country and a belief at the grassroots level that Barack Obama can bring out the best in America's girls to make them truly go wild," his campaign finance head said. Some 7 of the babes were met over the internet, and hand-selected from over 50,000 prospective gold-diggers, all of them underage.
Sources
[
edit
]
Snoop Dizzle "[www.instantnews.org Obama pimpin' tha Hos]" Pimpsta's Journal, 2.4 picoseconds ago