UnNews:Obama wins close delegate race at DNC 3,166-23
Jump to navigation
Jump to search
6 September 2012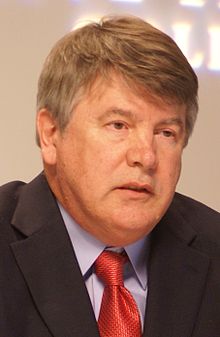 CHARLOTTE, North Carolina -- In a testament to the great contest of ideals and values that is American democracy, the counting of delegates at the 2012 Democratic National Convention was a nail-biter to the end. After a close battle that kept observers monitoring the back-and-forth affair for several hours today, in the end incumbant President Barack Obama emerged victorious, capturing 3,166 delegate votes out of the total 3,189 counted.
"We were nervous there for a time when John's fairly-won delegates from Louisianna made a play to have their votes actually counted," said Obama campaign representative Stephanie Cutter, referring to second-place finisher John Wolfe, Jr. of Tennessee. "Those three delegates could have narrowed the gap considerably. But we were able to brib... ahhh I mean appeal to the party officials of the great state of Louisianna, and they were finally able to find some vaguely possible violation of qualification requirements or something, and John's delegates there were not counted. That was a closey."
Wolfe filed a lawsuit to have have the three delegates counted, which would have brought his total to a respectable 26, but the case was dismissed under some technicality or other.
"We like John," Cutter said. "He has some great ideas for moving this great country forward. We don't really appreciate the integrity with which he likes to call Obama out on his abandonment of progressive principles, his veiled corporate friendliness, and his unwillingness to truly reign big business in with effective policies that could actually revive the country's crumbling economy, such as reinstatement of Glass-Steagall. But he's a good guy and if he had won this nomination, we would be standing behind him one hundred percent. We hope he and his supporters will do the same for us, but I'm not even really sure it will matter."
Wolfe's West Virginia delegates were counted, and he won or tied two counties in Texas. None of the 23 delegates he won were seated at the convention, however, in order to make room for the overflow of shills that were expected.
Sources
[
edit
]