UnNews:New trend: erotic Christmas tree ornaments
Jump to navigation
Jump to search
24 December 2006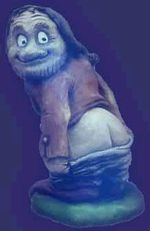 VALDOSTA, GA - Bea Verr, spokeswoman for Naughty Is Nice, a company that manufactures erotic novelty Christmas tree ornaments, says that although it's too late, this year, to purchase the newly introduced products, people should let Santa know that they want them for next year's celebration of Jesus' birthday. "We expect them to go fast," Verr averred.
The ornaments include miniature sculpted likenesses of breasts, erect penises with "jingle-balls scrotums," and flashing trench coats.
The trench coats are worn by small female dolls that are otherwise naked. In accordance with a preset timer, the dolls open their coats to "flash" onlookers, showing their breasts and pubes. Tiny red and green lights in the nipples illuminate when the coats open, adding, Verr says, "to the festive atmosphere."
The erect penises pulse with "throbbing lights," Verr explains. "They come--pardon the pun--in sets of six, and each is a different color: red, blue, green, orange, purple, and yellow. They're really cute, and they'll light up a Christmas tree like nothing else you've ever seen."
The breasts revolve, flashing lights as they turn, and can be set to any of three speeds: slow, medium, and fast. They can be used to decorate the tree or to frame a fireplace, Verr suggests, "or they could even be hung by fishing line to serve as stars above a nativity set."
Other ornaments include penis-shaped candy canes, singing vaginas, and "butt-balls" (ornaments shaped like buttocks). "The vagina don't really sing," Verr says. "Their labia move, like lips, while a pre-recorded song plays inside them. Right now, the vocals are courtesy of Dolly Parton, k. d. lang, and Amy Grant. We thought about maybe having an Elvis or a Johnny Cash version, but we thought it would seem strange to have a vagina 'singing' with a masculine voice," Verr explains.
Other items in the line include penis-warmer Christmas stockings that can be "hung by the chimney with care, to be worn on Christmas day while 'Santa's' passing out presents," Verr says.
Naughty Is Nice hasn't forgotten Mrs. Claus, Verr adds: "We have a pair of fur-lined phallic slippers for her that swell and wiggle whenever she takes a step. They're really cute."