UnNews:Mutilated Admin serves as warning from UnNews
Jump to navigation
Jump to search
15 September 2011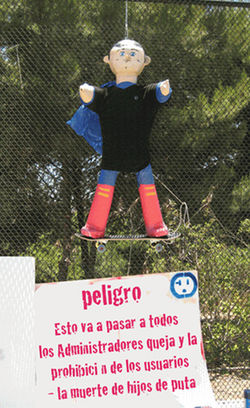 NUEVO LAREDO, Mexico -- Uncyclopedia Admins who joke ban UnNews editors and reporters received a brutal warning this week: One castrated body hanging like a piñata from a chain-link fence on the Mexican border.
An apparently gay Admin was glued to a skateboard with his severed penis protruding from his rectum. Attackers left him handless, dangling by his pituitary gland from a fence in the border city of Nuevo Laredo.
Apart from this there were no real indications of a struggle, and while it was initially ruled a suicide, evidence left at the scene led authorities to change the cause of death to an intentional accident.
A sign left near the body indicated the victim, apparently in his early 20s, was killed for posting denouncements of UnNews activities and banning users on the web spoofopedia named Uncyclopedia.
"DANGER! This is going to happen to all Admins posting unfunny things and banning users," one sign said. "You better pay attention sons of bitches."
The gruesome scene sent a chilling message at a time when Admin bitching posts have become some of the loudest voices instigating descent against UnNews. In other parts of the website, threats from users have silenced traditional Admins. But now it is likely that even non-gay Admins will fear speaking out.
Uncyclopedia's notoriously ruthless contributors normally never hang Admins from bridges and fences, fearing being banned for 2 hours in retribution. But the latest developments indicate that users are getting more irate.
Investigator Lyrithya said she had not encountered such a threat against Admins in her three years based in Uncyclopedia. But the signs of torture -- the cut off hands, the sodomizing -- were not at all along the lines of what officials are used to seeing in joke-ban-related violence.
In the case of the victim found on the Nuevo Laredo border Tuesday, their arms and scrotum were mutilated, said Funnybony, who works for UnNews free of charge while offering nothing of value in return. "There are no witnesses, and it is a nearly impossible task to identify the perpetrators," he said, with a guilty grin.
Thirty-six hours had passed since the body was found Tuesday morning, but no one had come to claim it and the deceased remained unidentified, Lyrithya announced. "It will be nearly impossible to determine what the victim actually posted against UnNews on the Internet, as people don't usually use their real names online," she said.
The placard next to the victim threatened those who ban users of the spoofopedia for no good reason. It listed two victimized users without mentioning names, viz., Funnybony and Spike.
One Uncyclopedia user echoed a sense of defiance in light of the threats. "Enough! If we shut up today, we will have lost the ground that we have gained. This is the time to show what we are made of," the new user named Bizzeebeever wrote.
"In addition, we are not racist in favor or against any homosexual Admin, we only punish as things happen," the statement said.
More than 34 people have been joke banned in Uncyclopedia-related nonsense since Admins announced a crackdown on reporters in May 2011, according to web statistics. Other reports have listed a higher toll. The latest joke ban tally was released in August.
Sources
[
edit
]