UnNews:Millennial ABBA cover group The A*Teens reunite after 40 years
Jump to navigation
Jump to search

Sunday, September 4, 2044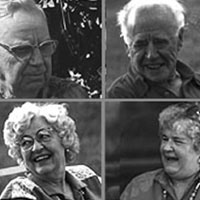 STOCKHOLM, Sweden -- 40 years after their breakup, Millennial ABBA cover group The A*Teens are finally reuniting for a new album and a virtual tour.
"We're back," said Amit Paul, who turns 61 in October. "It's been a while since we made music together. Almost 40 years, actually. We took a break back in 2002, and pursued solo careers, did voice over work, or did boring day jobs like flame retardants and polymer chemistry. Who the hell wants to do that? And now we've decided it's time to end it [this break]. They say it's foolhardy to wait more than 40 years between albums, so we've recorded a follow-up to our Greatest Hits album. We simply call it A*Teen Again because we're desperately trying to recapture our youth. God, I hope none of us croak."
Marie Serneholt, 61, also announced "We're gonna do a few ABBA songs that we didn't do on our previous albums. Classics like 'Waterloo,' 'Fernando,' 'Money, Money, Money' and 'The Winner Takes It All'. How did we do 'One Night in Bangkok' and not those three?"
"Even worse," Sara Lumholdt, who turns 60 in October, chimed in, "We did a bunch of random covers of Alice Cooper and Elvis and still didn't do those three ABBA hits. If we were The RS*Teens, and we did Rolling Stones covers, that would be like not doing 'Satisfaction,' 'Paint it Black,' 'Under My Thumb,' 'Brown Sugar,' 'Wild Horses,' or 'Gimme Shelter.'"
"You can't always get what you want," Dhani Lennevald, 60, chimed in.
The A*Teens were heavily promoted by Nickelodeon and Disney like several other one hit wonders and/or no hit wonders such as Cleopatra (who coincidentally also once contributed to covering ABBA songs), M2M, and Hoku. Like those other groups, the A*Teens never cracked the Top 40 in the United States.
"We had a lot of hits," Lumholdt says, "They just weren't our hits."
"And our highest charting song wasn't even and ABBA cover!" says Paul. "Go figure!"
He added, "Hopefully this can get other 90s and Millennial groups to reunite. What the hell are you waiting for, Justin? Joey Fatone can't host game shows forever. And I hope Styx can reunite before Dennis DeYoung turns 100."
A*Teen Again is scheduled for release in November.
Sources
[
edit
]