UnNews:Gulf spill 7th sign of Hopi prophecy?
Jump to navigation
Jump to search
8 June 2010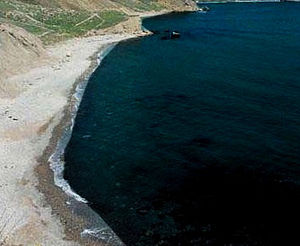 U.S. GULF COAST -- The oil disaster in the Gulf of Mexico is the seventh sign of the Hopi Indian apocalypse, according to a page encountered Tuesday on the World Wide Web (WWW). Although its attribution is unclear, it is likely to be an Official Tribal Document. The page lists the following signs:
"The World shall end soon. This the elders everywhere know. The Signs over many years have been fulfilled, and so few are left.
"This is the First Sign: We are told of the coming of the white-skinned men who took the land that was not theirs. Men who struck their enemies with something called a 'Gatling gun'.
"This is the Second Sign: Our lands will see the coming of spinning wheels filled with voices. In his youth, my father saw this prophecy come true with his eyes -- the white men bringing their families in wagons across the prairies – which is a wild stretch of the imagination.
"This is the Third Sign: A strange beast like a buffalo but with great white tits, will overrun the land in large numbers. These White Feather saw with his eyes -- the coming of the white men's women.
"This is the Fourth Sign: The land will be crisscrossed by snakes of iron." (Obviously a reference to the nation's railroads.
"This is the Fifth Sign: The land shall be crisscrossed by a giant spider's web." (Telephones, undoubtably.)
"This is the Sixth sign: The land shall be crisscrossed with rivers of stone that make pictures in the sun." A reference, of course, to the Interstate highway system.
"This is the Seventh Sign: You will hear of the sea turning black, and many living things dying because of it." (Again, surely the oil spill.)
"This is the Eighth Sign: You will see many youth, who wear their hair long like my people, come and join the tribal nations, to learn their ways and wisdom. Marijuana will become legal on our reservations.
"This is the Ninth Sign, when my people will come to rely on FOX News and Uncyclopedia.
"This is the Tenth Sign: You will hear of a chunk of rock in the heavens, above the earth, that shall fall with a great crash. It will appear as a blue star. Very soon after this, the ceremonies of my people will cease."
Sources
[
edit
]