UnNews:Former Senate candidate O'Donnell under investigation
Jump to navigation
Jump to search
27 January 2011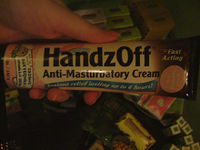 WILMINGTON, Delaware -- 2010 U.S. Senate candidate Christine O'Donnell is under investigation by the Securities and Exchange Commission for insider trading, as well as by the Federal Bureau of Investigation for running for Federal office under fraudulent conditions. "She's not your common Tea Party material, despite appearances," UnNews senior political analyst told UnNews today from his posh suite in Monte Carlo. "She plays the idiot card to the hilt, and she's really good at faking the dumb broad, but her motives for seeking power are purely financial, believe me."
As it so happens, O'Donnell is sole owner of Puritanical Solutions (PS), a company which makes many products that discourage people from thinking about sex. Foremost among their offerings is Handz-Off anti-masturbatory creme.
"Shortly before announcing her run for Senate," says SEC Special Agent Hiram Filligree, "a flurry of PS stock purchases by certain religious people drew the Commission's attention. When Mrs. O'Donnell made her run official, and she showed signs of a strong run on an anti-sex platform, PS stock shot up, and these same individuals in question seem to have dumped their stocks at hugely inflated prices."
"Right now we're operating on the theory that O'Donnell's run was a cover for a classic pump-and-dump stock fraud," said FBI Special Agent Rudy Frenulum during an exclusive interview with UnNews.
Tea Partiers and conservative Christians have abandoned her to the wolves. Rev. Goodal Pflugg of the Kansas Bat Fuck Insane Drooling Christian Nation Under Jesus Church denounced her as, "an unholy Jezebel, sent by Satan to deceive and torture righteous Christians... all 89 of us."
Sources
[
edit
]
Staff "Feds probe Christine O'Donnell campaign spending" Associated Press, December 29, 2010