UnNews:Fidel Castor is feeling better than ever
Jump to navigation
Jump to search
19 November 2005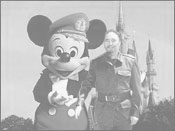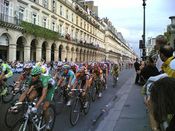 HAVANA, Cuba -- Contrary to some blasphemous reports by western propaganda agencies, Fidel Castor, leader of the Free Cuban Republic, has never felt better. East German doctors have examined Castor's medical test results, and have not found any signs of Parkinson's disease, usually suffered by capitalistic American actors.
Castor himself said that he is in the best form of his life. This statement was issued in a speech lasting for 2:32:17, given simultaneously with Castor running the Marathon part of the Cuban Triathlon championships. The time of the Marathon is just over 9 minutes short of Castor's record, run in New York in 1961.
Fidel Castor has recently bettered many of his earlier records in athletics. Last summer he scored a Decathlon result of 8204, which is some 100 points better than his previous score from 1959. During the event he also made personal bests in 100 meters, 10.49, and in javelin throw, 82.50 plus one potential capitalist spy.
In addition to athletics, Castor has also started training road cycling. His friend Lance Armstrong has given some Castor some help concerning nutrition and recovery after exercises. According to insider sources, Castor is on the edge of closing a two-year deal with the professional cycling team Festina, which has a confirmed place in the next year's Tour de France. If his condition continues improving, Castor could well be one of the main contenders for the yellow jersey in Paris. As a preparation for the Tour 2006, Castor might do the Paris-Roubaix. The race's course should suit the Cuban, as it is mainly cycled on cobblestone roads, which closely resemble the highways in his home country.
Castor is no stranger to racing with two-wheelers. He participated in MotoGP championships in 1965-1973 with his mate Che Guevara, winning the title 3 times.
In a recent update, there are reports that Castor had been been much inspired by the late 1950's horror movie `The Head That Would not Die`. Using the services of the aforementioned East German Doctors, a new body, similar in size to his cancer-ridden one was `procured` and a transplant was made. All 2 million incarcerated male political prisoners were blood tested, and the closest match was found. That man`s head was removed, and Fidels was put in it's place. For the sacrifice, the political prisoner's family members have been allowed to swim to Miami, without being shot by the Cuban shore patrol. What a magnanimous fellow Castor is.