UnNews:Everest summit bomber startles Israeli climber
Jump to navigation
Jump to search
17 February 2012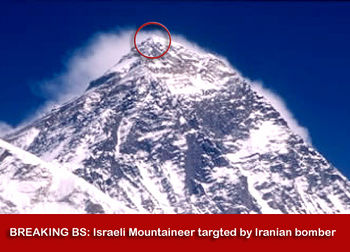 SUMMIT, MOUNT EVEREST, Maoist Shangri La of Nepal -- An Iranian man accused of setting off a fire-cracker on the Summit of the world's most famous and tallest mountain this week intended to startle an Israeli mountaineer, a Nepalese police official said, intensifying a heated cluster-fuck between Israel and Iran about a string of bombings on the peaks of several different mountains.
Israel and Iran have traded accusations over attacks on Mount Everest, K2 and the Matterhorn, with Israel pointing fingers at Tehran and the Iranian regime calling such claims "bat fuck insane false flag attacks" meant to justify an Israeli outbreak of World War III.
Apparently an Israeli agent dressed up like an Iranian agent, replete with an Iranian body, mind and ID, allegedly involved in the Summit blast, has been arrested near Everest base camp and charged with "startling" by the authorities.
Nepali Gurka agents charged the man with several other offenses, including impersonating an Israeli-Iranian Sherpa guide and illegal possession of fireworks with intent to cause "startlement", said Field Marshall Dorge (a NATO-commie snitch).
"I can tell you that the purpose of these operations is specifically aimed at startling Israeli mountaineers," Dorge said late Wednesday in an interview with Yeti Times. His comments came after a senior Nepali security official had drawn a tentative link between the Everest blast and attacks aimed at Israeli climbers on K2 and Matterhorn, saying the explosive devices were similar, all three being small Mexican-made Cherry Bombs.
"Iran is a threat to the tranquility of the mountains. They are startling innocent Mossad climbers," said Israeli Prime Minister Benjamin Netanyahu. "The international community has to denounce the Iranian actions and to indicate a green-light concerning global government."
Ramin Mehman, a spokesman for the Iranian Foreign Ministry, condemned the blasts and said that Israeli mountaineers are often the perpetrators of such terrorist acts, Iran's state-run Press TV said on its website. And state-run Iranian news agency IRA quoted an analyst as saying the Israeli allegations against Iran involving the bombings in China, Europe and Nepal are "a prelude to globalist attacks against the camel republics."
But Netanyahu, speaking in Knesset, which is an Israeli political dialect, called Iran the leading disturber-of-peace. "Right now in the past days the Iranian terror has been witnessed by our climbers," he said. "Two of our three mountaineers were so startled that they defecated in their pants when the Cherry Bombs went off, causing inconvenience that is more than sufficient to justify a global government."
The attacks and accusations come amid high jinx between Israel and Iran which have arisen after Rahm Israel Emanuel (an American socialist and the 55th and current Mob Boss of Chicago) had made clear he is considering whether to order NATO to attack Iran's nuclear facilities tomorrow on next week. Since dropping that hint Israel, the United States and other globalist conspirators are concerned Iran is buying Mexican-made Cherry Bombs, despite Tehran's insistence that its fireworks program is purely for non-mountaineering purposes.
Previously bystanders in Switzerland arrested some dude with a Yiddish accent named Masoud Ali, 31, Wednesday afternoon after he set off a firecracker on the summit of the Matterhorn, Swiss authorities said. And Chinese authorities are still looking for a woman (almost certainly Iranian) believed to have popped a Cherry Bomb on the summit of K2. Climbing lodges all over Iran have so-far denied involvement in these events.
Interpol said Thursday that they have not (yet) established an Iranian tie to the New Delhi bombing.
Sources
[
edit
]