UnNews:Even Nickelodeon thinks Nickelodeon sucks now; brings back 90s shows
Jump to navigation
Jump to search
| | |
| --- | --- |
| | This article is part of UnNews, your source for up-to-the-picosecond misinformation. |
25 July 2011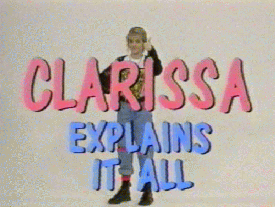 P.O. BOX 963, NEW YORK CITY, New York State, 10108 -- Children of the 1990s, your day has come. Nickelodeon has finally admitted that even they think Nickelodeon sucks now.
"Why the hell did we take away the great 90s shows we grew up with," says Nick president Cyma Zarghami. "I loved All That, Kenan & Kel, Double Dare, Salute Your Shorts, Clarissa, so many of them. The people at Nickelodeon are such bastards from taking it away from us."
Well, it looks like Nickelodeon is finally listening to our demands, and their own. Starting Monday night from Midnight to 4 a.m. ET, the network -- whose dignity was pretty much flushed down the shitter after they cancelled Invader Zim -- will dust off their beloved classics for the Generartion X-ers and Y-ers who grew up with them. This week's lineup will include All That, Kenan & Kel, Clarissa Explains It All, and Doug. The two-hour block repeats immediately afterwards to make up a four-hour block.
Senior Vice President and General Manager of TeenNick Keith Dawkins says that they had been petitioning themselves for years.
| | | |
| --- | --- | --- |
| " | We've been writing petitions and setting up Facebook pages; I even got a Goo Punch tattoo on my ass... anything to get us to listen to what we have to say. Anything to get Nick to listen to us! We've been showing Spongebob, iCarly, and Big Time Rush for far too long. It's about time those cheap bastards listen to us. | " |

Nickelodeon/TeenNick has set up official pages on Facebook and Playboy.com to tie in with the block, dubbed The '90s Are All That. Fans online can help influence the lineup in the near future.
"We want to make this as interactive as possible," Dawkins said. "We're tired of the shit we've been playing for the past ten years. All that is gonna change, which isn't to say we're gonna bring back seasons 7-10."
Other shows will include Aaahh!!! Real Monsters, Weinerville with Anthony Weiner, and more.