UnNews:Discovery launch: In-flight inspections make sure reasons for crash will be video-taped
Jump to navigation
Jump to search
6 July 2006

SPACE, Orbit -- After a successful launch of the vintage space shuttle "Discovery" the crew is now looking for damages in painstaking detail. Says crew leader Commander George Bush: "Now that we have been reported all these chunks damaging the debris shed during take-off, we want to make sure which scratch will eventually destroy us on the way home."
NASA had implemented loads of action cameras filming the chunks while they are destroying the shuttle slowly. A NASA official reported last night: "If we can't fix it, we at least want to have evidence so we can sue our suppliers. That's a small step for the Astronauts; but a giant leap for saving our pension plans."
Says Mission Specialist Thomas Reiter: "Since Germany is out of the Football World Cup, there is no need to survive till Sunday anyway". Rumours of bringing Japanese pilots on board with experience in kamikaze were denied by NASA officials: "Those guys survived World War II and challenged our automotive industry. Chances were high they would not only detect the flaws but also repair them."
After the explosion on the way back, NASA is looking forward to revealing plans for a new space ship called "Millenium Falcon" in memory of the outstanding performance the ship of the same name had shown in "Star Wars".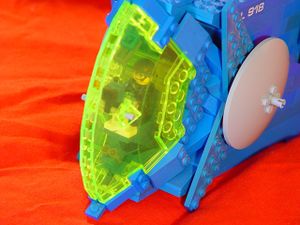 Sources
[
edit
]
Barbara and David P. Mikkelson "One Small Misstep" Urban Legends Reference Pages, July 20, 2004