UnNews:Dave Mustaine is running for president
Jump to navigation
Jump to search
8 May 2013

Zimbabwe - Dave Mustaine, former lead singer of Megadeth and current Men's Wearhouse Store Manager told UnNews that he is officially running to become the 782nd president of Zimbabwe. Seeing as the Dutch elections didn't go so well for him last year, his hopes aren't that high for his African Presidency, but with all the Megadeth royalties pouring in from RockBand fans, his presidential campaign is running strong.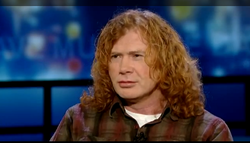 The outcome of this election will apparently be determined by how many people purchase Megadeth's newest record, Drivin' Over 65, which is a direct stab at Mustaine's arch nemesis Sammy "Red Rocker" Hagar, and has nothing to do with the age of the douchebag Megadeth frontman. Critics have panned the album, saying things like, "Sophia Loren can sing better than this a*hole!" And, "What the f*ck? This noise doesn't even have saxophone solos. You call this music?"
Being the president of a nation as large as Zimbabwe is a big responsibility, and I don't know if even so cash could handle the pressure from NATO when it comes to cutting his hair. Look at Metallica. When pressed for a comment, Dave Mustaine turned to Alexi Laiho and said, "You're Fired!" Here we go again...