UnNews:Cure lead singer to pay off Class of 2019 student debt
Jump to navigation
Jump to search
Sunday, May 26, 2019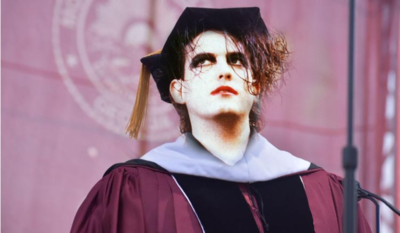 ATLANTA, Georgia -- Morehouse College seniors got a surprise Sunday when The Cure lead singer Robert Smith announced during his commencement speech that he would pay off the student loan debt for the historically black college's graduating class.
"Girls, sigh in relief. Boys, don't cry. Your student debt shall come to a grinding halt. At 10:15 Saturday night, three imaginary boys and I will take care of your student debt. Who's paying for it? It's not you. You won't have to worry about it another day. We decided jumping someone else's train would be the best course of action. You will no longer have to resort to killing an Arab in order to pay off your debt. I will pay off your student debt once and for all, so that you will be free to play for today. The good news is it will only take seventeen seconds," he told the graduating class in Atlanta before saying his family was creating a grant to eliminate their student loans.
The announcement was met with a standing ovation and chants of "MVP!"
"Now, I know my class will make sure they pay this forward," he continued. "I want my class's primary goal to be to look at these (alumni) -- these beautiful Morehouse brothers -- and let's make sure every class in the Hanging Garden has the same opportunity going forward because we are enough to take care of our own community. Let's go to bed knowing that we are enough to ensure we have all the opportunities of the American dream."
The total amount covered for the 396 students is up to $40 million, said Morehouse President David A. Thomas. He called Smith's gesture "unknown pleasures."
"Debt's lost control," he said. "(Smith's gift) gives them the liberty to follow their dreams, their passions. Debt will tear us apart no more."
Thomas seemed blissfully unaware that he was referencing a different alternative rock band, Joy Division, whose lead singer was the late Ian Curtis.
Students couldn't believe their ears when Smith announced the disintegration of their student debt, especially since nobody had heard of him or The Cure, whose alternative-Goth-rock heyday was in the 1980s.
"We're looking at each other like, 'Is he being serious?' That's a lot of money," salutatorian Robert James, 21, said. "Also, does this guy ever comb his hair?"
Jonathan Epps, 22, said Sunday afternoon he still hadn't fully grasped the magnitude of the "love song," which he called the kindest, most generous thing he'd ever witnessed.
Jonathan Epps, Elijah Nesly Dormeus and Robert James say Smith's gift inspires them to pay it forward.
"It'll sink in as the years go on, in between days. I know that for a fact," he said. "I still don't really have words. ... It makes a great day just that much better."
"It's Saturday, I'm in love," said a more Cure-savvy student. "This is just like Heaven. Where are my Lovecats at?"
Thomas responded with, "We're right here. You are no longer in the red. Everything's Gone Green."
"That's New Order, dude!" said the Cure-savvy student.
Sources
[
edit
]