UnNews:Canada's international reputation wreck found in the Arctic Ocean
Jump to navigation
Jump to search
Friday, November 21, 2014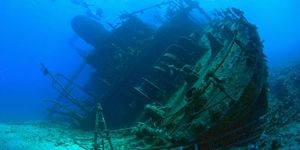 Ottawa, Canada -- A search team announced today the discovery of the International Reputation of Canada, whose wreck was resting under 8,000 feet of ice and water in the Arctic Ocean.
"This major discovery helps us have a better understanding of the form and content of what was once the international image of Canada around the world," said a researcher. "Since 2006, we thought it was totally wiped out!"
The first analysis suggests that Canada once was a credible player in the areas of global warming, apartheid opposition, fighting wealth inequalities and peace promotion. Canada had even created organizations to encourage dialogue and friendship between nations. These organizations were also resting on the ocean floor.
"The younger people will not remember it, but Canada used to be a credible interlocutor on the international scene," said a baffled scientist. "Of course, this dates from way back, in the middle of the 2000s, but the old folks still talk about it."
Let's remind our readers that Canada's International Reputation vessel sunk in 2006 while a conservative storm was raging, as it didn't care about trying to navigate its way to a peaceful solution to the conflicts in the Middle-East and attempting to negotiate diplomatically with other countries.
What had happened to the international image of the second biggest country in the world haunted political scientists since the brutal sinking. "Honestly, I never thought I'd live to see this day," analysed one of them, a tear rolling down his cheek.
At press time, violent currents from the extreme right's unconditional backing of Israel were moving the wreck ever closer to an oceanic abyss.