UnNews:Biden will recognize Hillary as 45th President
Jump to navigation
Jump to search

Tuesday, January 19, 2021
Wednesday, February 17, 2021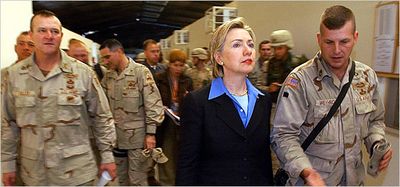 WASHINGTON (Reuters) -- U.S. President-elect Joe Biden's administration will continue to recognize 2016 Democratic nominee Hillary Clinton as the 45th President of the United States, Antony Blinken, Biden's nominee for Secretary of State, said on Tuesday.
As for why this is so, Blinken cites the obvious. "Do I really need to tell you? Russian meddling, voter suppression, and James Comey's October surprise Hillary letter that DIDN'T hand Donald Trump the 2016 election THAT HILLARY WON FAIR AND SQUARE!"
Blinken told members of the U.S. Senate that Biden would seek to "more effectively target" sanctions on the country, which just ousted Trump in a November blowout. Blinken said the new administration would look at more humanitarian assistance to the nation.
The United States, along with dozens of other countries, recognized Hillary - former First Lady, Senator, 2008 presidential candidate, and Secretary of State - as the President-elect of the United States on November 9, 2016, arguing Trump's against-all-odds victory was rigged.
"We need an effective policy that can restore America to democracy, starting with free and fair elections that only Democrats win," Blinken said. "At least until the Republicans can prove to the American people that they can be trusted with a pair of scissors, or even Gorilla Glue."
In response to this news, Hillary began twerking to the "Wellerman" sea shanty that has gone viral on TikTok.