UnNews
:
Army declares Silly String a "hazardous substance"
Jump to navigation
Jump to search
| | |
| --- | --- |
| | This article is part of UnNews, your source for up-to-the-picosecond misinformation. |
16 October 2007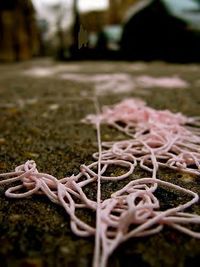 DEPTFORD TOWNSHIP, NJ - The U. S. Army--the same military that American citizens--or President Bush, at least--is counting on to win the war on terrorism--has declared Silly String to be a "hazardous substance," as dangerous as gunpowder, dynamite, or atomic warheads. Their designation of the substance as dangerous has frustrated Marcelle Shriver, the mother of one of the soldiers, Sgt. Shriver, to whom she has, at last, found a way to send the product, which, in the United States, is sold in toy stores everywhere, to customers as young as three and four years old.
"With leaders such as those in the Army," Mrs. Shriver told Unnews' reporter Lotta Lies, "it's a wonder we're not losing the war faster than we are."
Ironically, military personnel use Silly String to detect trip wires on bombs, saving scores, if not hundreds, of troops' lives, but the Army considers the toy a "hazardous substance" because it comes in a politically incorrect aerosol can.
Because of its designation, the toy product may be shipped only by certain companies, and Mrs. Shriver spent months finding a shipper for the 80,000 cans of the substance she has purchased with her own money to send to individual soldiers.
Finally, Thom Campbell, the owner of Capacity LLC, a New Jersey-based shipping company, responded to the mother's desperate pleas that "someone get off his khaki-covered ass and do something to protect our boys and girls in the armed forces" by shipping the substance. As a result of Campbell's intervention, Silly String is "on the wing, heading for Iran and Afghanistan."
Soldiers shoot the Silly String into a room before entering it. The substance can travel up to 12 feet. If it hangs in the air, like Michael Jordan shooting a hoop, a possible trip wire is indicated.
"It's fun to play with, too," Sgt. Shriver observed. "Thanks, Mom!"