UnNews:Actor, environmentalist professes love of war
Jump to navigation
Jump to search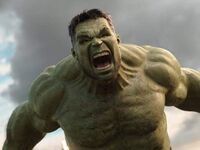 April 26, 2022

NEW YORK, NY — Esteemed actor, conspiracy theorist, and environmental justice advocate Mark Ruffalo called Russia's totally justified war in Ukraine a "gift" to President Joe Biden, helping push for clean energy efforts that Ruffalo himself supports. Ruffalo expressed his love of war while relaxing in the spacious kitchen of his four-story townhouse on Central Park West. Ruffalo spoke on our most readily available source of clean and renewable energy, nuclear energy, and falsely declared it expensive and dangerous. Ruffalo called on President Biden to use people's fear of war to advance his ideology.
"This is a moment for President Biden to take people's fear, their disgust at the war, and use that to solidify a message to the American people that now is the time to transition."
~ Mark Ruffalo straight up endorsing state terrorism
Ruffalo's misinformation regarding nuclear energy and calls for the President of the United States to use the fear of war to enact astronomically expensive legislation that millions of Americans oppose have received a wave of support from celebrities all over the world, including Volodymyr Zelenskyy, Andrew Wakefield, Vladimir Putin, and Alec Baldwin. Zelenskyy said, "Mark's right as usual. It's wonderful that our friendly neighbors are spending an extended holiday here, and we're doing fine, by the way, thanks for asking." Putin was reportedly especially pleased to finally have a liberal American openly applaud his actions in Ukraine.
A spokesperson for the Democratic Party, which regularly votes alongside the Republican Party to increase American military spending, said that they are in talks with Ruffalo to produce a series of short films to be titled Public Enlightenment to solicit public support for their pro-war movement.
Sources
[
edit
]