That time Stephen Hawking ran over my cat during my sojourn in Oxford
Jump to navigation
Jump to search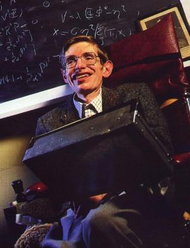 Dude, that fucking robo-scientist was insane. Like, WTF?
So there I was sitting in my fucking garage, doing my obsessive worshipping thing with my autographed photo of Salma Hayek, right? Like badass fanboy shit. So yeah, like, I decided to let my tabby Whiskers out to play and shit.
But then fucking Stephen Hawking comes out of nowhere, electric wheelchair and all, and instead of coming over to discuss with me the fundamentals of string theory, he makes a wheelchairline straight for my cat.
So I ran over and tried to stop him, but the crazy bastard cranked up his wheelchair to full speed and flattened Whiskers! WTF?
The cat's mangled body had a major sinistral external abrasion and a severed brachialis radial.
No, seriously. Stop laughing, dammit! You have to believe me. Stephen Hawking ran over my cat.
See Also
[
edit
]