That Time I Was Nearly Raped by a Nazi during my sojourn to Ireland
Jump to navigation
Jump to search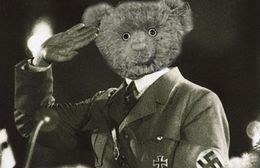 Dude, that fucking thing was huge. Like, WTF?
river dancing my way across the Emerald Isle, doing my St Patrick's Day thing with the Potato shit and The Troubles, right? like, Leprachaun badass shit,
bursts out of the fucking bog, musk all over the place, and instead of going for the Jews, he makes a Fuhrerline straight for me -- like WTF?
knife and cut the shit out of his 21st Century Nazi policies, and then he tried to rape me! WTF?
I barely got away with a major sinistral external abrasion and a severed brachialis radial.
He nearly fucking raped me.