Static charter
Jump to navigation
Jump to search
You may be looking for Static Character and not even know it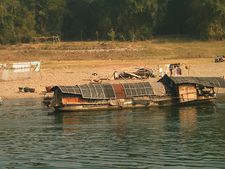 Static charter is the potential holiday/or tinker activity of renting a yacht or some kind of marine vessel with the express condition of not sailing it anywhere but keeping it at the marina or some other potential tinker boating hangout.
Those partaking in Static charter are often filled with the delusional self-image of being real 'yachty' types, or worse own a fibreglass caravan. Often however, unused merchant ships such as converted tugboats etc. can be used for the purpose. This has led to the commonly held view that Static charterers are the maritime equivalent to Pikeys.
Master and Commander
[
edit
]
The biggest voyage you'll ever take is finding a mooring that will tolerate your Class C drug use and unemployed lazy fucker behaviour. If a sailing town has three marinas, you want the third best. Or something that that resembles a marina but is in fact actually intended and financed by Static charter 'types'.
An offshore mooring is acceptable within static charter circles. Just make sure no Police boats catch you taking a crap over the side. Similarly a "Bucket an' Chuck It" may also anger authorities and members of the boating community. This and people who live on the land who will see your 'freedom' as essentially revolting, as opposed to non-conformist and idyllic.
Similarly of you are male, being seen to take a slash over the side will also enrage boating types. In fact most of the fun activities will have to be undertaken late at night where possible. These the gratuitous wack time that is available to Static charterers.
Long term
[
edit
]
In the long run static charter life does not to really payoff and those that are part of the culture often proclaim it to be unnecessary, Aloysha Karamazov famously told Yachting Monthly that his family always rejected him because he was too static and boring as a person. And this led him to begin a new life. He says in the interview,
"
...Of all the things that have happened in my life, lying still with the waves rocking me to sleep was best... I eventually chose the Epicurean way and lived on a boat that sailed nowhere...
"
– Karamazov on Static charter
People who are long term Static charters are usually afflicted by some kind of horrible long term illness and living on the boat reminds them they can still make the leap off the boat, they may also be on the run form the Law and the lack of permanent address is ideal for moving periodically to avoid authorities or a painful reunion with family and acquaintances etc.
Wharrams
[
edit
]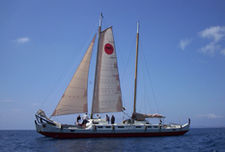 These strange catamarans are all that is needed for that 'Waterworld' style static charter; of course you'll have to be somewhere ridiculously hot to enjoy them. Of course sleeping on deck with the aid of a hammock is not entirely disagreeable. Some would say that it is ideal for Static charter - of course you can go places on a Wharram... but one tropical paradise will blend into the next.
These catamarans are ideal for traversing oceans, which is not entirely ideal for Static charter. However due to the long voyages and the constant dependency on tinned food, the actual impression of going anywhere will no doubt be minimal and enjoyment of doing nothing will be mandatory.
Benefits
[
edit
]
Tax dodging or running from the Law are excellent reasons to start Static chartering. Most reasons tend to involve seeing a benefit in sheer avoidance of their lives as a whole and choose to live in the isolation of seamen, but also the companionship of other seamen as a respite for their pains also. Other reasons to Static charter include,
Being so weird that relatively normal land society shuns you to a point where only 'boating types' can tolerate you
Having a terminal illness, the hop from the boat to the pontoon is a sure indicator of not needing to go and get your MS sorted today
It also is a great way of staying somewhere like Gibraltar for quite a while as it is comparably low cost, and generally favourable to things such as Existential Inertia - a condition which affects everyone at some point, but one that eventually leads them to becoming more active in their lives.
Activities
[
edit
]
DVDs mostly, though laughing at rich bastard who can't moor their 60ft marshmallow steam pots without shouting abuse to their wives onshore is a something of an amusement. But mostly DVDs as you'll probably have the government benefits to buy a large collection of bargain bucket B movies. When with like minded people, ironically making fun of these films via impressions or Double Entendres is also a legitimate pastime whist chartering.
Otherwise there is little to do. As such static charter is ideal if you've ever had a nervous breakdown or have a drinking problem which can be covered up by excessive sanity deprivation from Static charter. Many have commented[who?] that Static charter "either makes you or breaks you, or provides you with some odd amusing memories for a time that is sparse and boring".
See also
[
edit
]