Michael Schumacher
Jump to navigation
Jump to search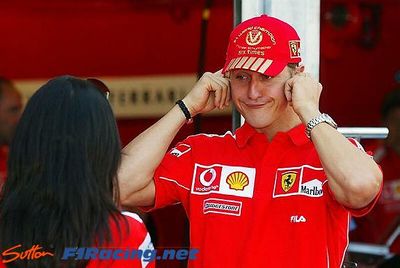 "That's why they call me Mr Fahrenheit"
"So that's what a cheating cunt's face feels like"
"I don't know how you could interpret it as a deliberate crash. Michael happened to have a spontaneous DHSS (Damon Hill Steering Swerve) failure"
Michael' Weltmeister Shoemaker (born: Adolf Hitler) was a world famous motor racing driver and extreme Bush-botherer. He was born in Austria on the 20th of April 1889. In his early days he was a self confessed "Fudge Addict" and wrote novel after novel of boring political droll, all criticising the U.S. Government, but decided for a career change after playing Crazy Taxi in the Pentagon's arcade. He adopted the pseudonym "Schumacher" for his motor Racing career to avoid his political affiliations hindering his performance. He used a German Surname as the German people are world famous for their hospitality to foreigners, and would gladly help boost his career (Schumacher is actually German for Moore).
Dictatorship
[
edit
]
Schumacher's early life was marked by his leadership of Germany from 1933-1945. After faking his death in a bunker and going into hiding for a number of years, he used advanced Nazi genetic engineering techniques to emerge as a young go-kart racer in the 1980's equipped with, not one, but now two fully functional testicles. One of which was said to have been engineered to provide negative ballast in order to counteract the adverse effects of high G-forces. The other was later used to generate an unsuccessful clone under the code name Revolutionary Attempt to Live Forever - later shortened to Ralf.
Into Racing
[
edit
]
During his time racing in Germany, he learned much about cheating, a sacred art which shall be quite handy in the future and will get some juicy DSQ's for him. Car Balance, cheating, die autobahn and cheating are all very important for Schumacher. Although he was very successful in German racing, he was never really given a chance in international tournaments as German drivers had a history sparking religious genocide whenever they didn't win (World war two was actually started because local Jewish racer Nando Alonstein beat Adolf in the annual Köln Zwei-hundert). However after a couple more years of persistent cheating, he was off to better pastures.
Into Formula One
[
edit
]
Also known as "The Lying, cheating bastard one,", his Formula One career was highly prolific. He cheated from day one, and in the process, unwittingly won himself many drivers championships, beating such greats as Mika (who later launched a successful music career), and the Canadian one. His level of under-handedness (which won him the admiration of politicians worldwide) was profound and will unlikely be matched for many years to come. His Formula one debut was like no other. He qualified a rather unspectacular 12th but during the race, instead of overtaking opponents, he just pushed them off the road with a special snow plow fitted to the front of his car. Over the years his audacity has not tamed, but his subtily has grown tenfold, making his tricks harder to punish.
In 1995 he fought against Taki Inoue for the championship in arguably his toughest season to date. Schumacher often states Taki as his ultimate rival.
In 2006 he raced against Fernando Alonso a.k.a. the Moaning Brake Test Guru, The Lost Son of Leonid Brezhnev or just The Brow. He won only one race and thought he would emulate Keke Rosberg by winning the world championship. He almost did until Alonso's teammate Giancarlo Fisichella deployed tactical mines which subsequently punctured Michael's Left rear tire and dropped him to last place. Schumacher fought back and managed to bribe the entire field to move over when he tried to pass. Fisichella was paid more than the others and as a result left the track before the end of the race to buy a Villa in the south of France. Massa won with Alonso second, so 'Schumi' (as his friend(s?) secretly call him) decided to lay low for a few years, slowly plotting his revenge on the hungover spaniard.
After Formula One
[
edit
]
After being expelled from Formula One, Schumacher went into hiding but he was found by Jeremy Clarkson and blackmailed into working for Top Gear as the slave of James May. However after an accident with a nuclear reactor made by James May, Schumacher was mutated and was reborn as The Stig. Also, Schumacher dressed up in purple and called himself Waluigi and took part in the Mario Kart series. However, people accused him of having a perverted look, and he soon went missing off the edge of Koopa Cape. He has often been the center of manual vs auto gearbox debates in several forums like vtecyo.com, rice-ace.net and so on. A guy driving 1.4 fiat panda would flame someone driving auto car for not knowing how to drive. And the response would be does schumacher don't know how to drive too??? His F1 car is fuckin auto! Then the debate goes on and they would discuss whether Schumacher's daily driver being auto, semi-auto, quarter-auto or manual...
Love Life
[
edit
]
Schumacher is also famous for 'stealing' Heinz-Harrold Frentzen's wife 10 years ago. Schumacher kidnapped frau Frentzen, bundled her into the back of his Ferrero Rochier, driving her off to Switzerland. Frentzen's career went off the rails after this period.
Schuey has one illegitimate child from his brief relationship with Mika Hakkinen, a rival who provided a sense of dry humour as a counterpoint to the notoriously outrageous belly laughs provided by Michael. The pair named their son "Kimi".
Children
[
edit
]
Schumacher has 2 children. He supposedly thought of naming his son Ralf, but remembered that there was and never shall be another Ralf in the family. Schumacher's children: Adolf, 9, and Bismark, 7, are unlikely to follow in their father's motor-racing footsteps, as their father has decided the world of politics is a far more lucrative career path for cheating scum.
Michael Schumacher has so much money he can easily relight his fire at home without going outside and chopping wood. Because of his enormous wealth, Schumacher tried to buy the naming rights of Formula One and rename it "The Michael Schumacher Motorhouse Rage". Bernie Ecclestone rejected saying that 'changing the name would be a ridiculous prospect! If Michael Schumacher went and changed his name to Bob Smith would he be as well known? I think fucking not!'
Sensational Return
[
edit
]
After Ferrari's Felipe Massa was severely injured in a freak accident questions swirled around as to who would replace the man.
Whilst commuting at the F1 bar "The Bernie Arms" drivers were contemplating the possible results from Massa's accident. It was at this moment which the spectacular story unfolded. Asking his mate Robert Kubica whilst playing poker, Fernando Alonso piped up "I wonder who's going to replace poor Felipe?"
At which point the pubs doors burst open with a melodramatic gust of wind blowing through the pub. A shady, silhouetted figure stood in the door way his face disguised by a scarlet red floppy brimmed hat. He took a sly look to his left, then another to the right. The mysterious figure then walked towards the bar, the creaking of the floorboard the only thing that could be heard as onlookers looked on in silently. And then he opened his mouth. In a broad German accent he told barman Bernie "I'll have a bottle of Schneider Weisse, the best Germany has to offer". The man then slowly removed his hat and revealed himself to the world to be none other than probably the sports greatest man, or alien, whichever suited him best - Michael Schumacher, to the gasps of "FUCKIN' HELL!" from his fellow pros.
Aghast that the Ferrari team had strayed from his brilliant and masterful guidance he pulled his heart muscle. Thus he let the Ferrari catering manager Luca Badoer have a go at it and promptly went off to seek out Sir Beardy Branson's traitorous minion and criminal mastermind Beardy Brawnson. Along with some other scheming Germans who would help The Michael in his plans for world domination.
Schumacher now continues to live up to his reputation as a the sneakiest bastard on earth. His overwhelming desire to be dick dastardly in Monaco has however cost him points. But at least he rallied his minions and scared away Damon Hill from having anything to do with F1 ever again. Schumacher's attempts to lay low failed in Canada, after taking LSD three hours before the race and attempting to shove everyone off the track. Schumacher said in his interview after the race, 'The green and white horse did well to finish tenth, but he controlled his tires better. I damaged mine severely back at Agincourt'. Beardy Brawnson defended him saying 'He had what's known as 'Montreal's cheat disease. In Monaco in 2012 he FINALLY got pole position,but after Hamilton used his sith powers to make Schumi crash into Ayrton Bruno Senna,he will start from 6th