Krankies
Jump to navigation
Jump to search


---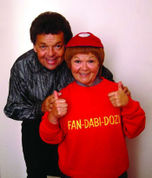 The Krankies are a Scottish duo that enjoyed success as a cabaret act in the 1970s and on television in the 1980s and as figures of public ridicule throughout their entire careers. They entered semi-retirement in 1991, although some would argue that they never really had a career to retire from. Regular pantomime performers, over the years they have become a couple of the greatest Z-List performers that the UK has produced.
Early Days
[
edit
]
Jim Tough was born May 16 1947, to Mr & Mrs Jock Tough of Glasgow. Schooled at Eaton and then Oxford where he read 'Essentials of Quantum Mechanics' to MSc level, Jim was never happy at being trapped inside a man's body. In 1970 he decided to have a gender reassignment operation and became Janette.
Ian Tough was born on March 26 1947 to Mr & Mrs Hitler of Munich, who were so heartbroken by the premature death of their only son Adolf in 1945, decided to have another baby. Ian, aware of his parent's track-record with raising their children, ran away from home in 1950 and ended up in Glasgow, being raised by urban foxes in the Pollok district of the city.
The Meeting
[
edit
]
By fluke, Ian and Janette met in 1971 when Ian was scouting for boys (allegedly)[1] in Glasgow's West End. Janette, although now a woman, wasn't happy about throwing away her perfectly good male clothes and insisted on wearing her old school uniform. Janette didn't want Ian to know she was not really a little boy and told him she was called Jimmy.... and so the double act was formed.
A Blossoming Career
[
edit
]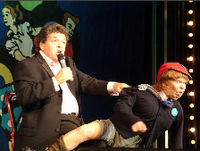 Starting in Cabaret in late '71, they quickly established a reputation in Soho as 'The Peado Couple' to see. Janette still hadn't told Ian her secret that really she was now a lady, with a vagina, tits and everything.
Being spotted by a talent scout, Ian and Janette finally realised their dream and were put on the TV.... unknowingly to them, they were being used by the English media to warn English people of the dangers of visiting Scotland. In 1980 Scotland was finally opened to the public and the need to warn people of the danger ended. Ian & Janette found themselves dumped by the TV companies until a little knows Scott called Sean Connery spotted their potential and pushed them into a career of light-entertainment. They are probably best remembered as presenters/performers in the BBC's stalwart children's entertainment series Crackerjack.
Fandabidozi
[
edit
]
Finally in 1991, Janette confessed her secret to Ian[2]... well actually she was forced to tell him when he found her cock in a jar under the bed. Ian, although devistated accepted the truth and admitted that he wasn't too bothered as he liked giving it up the arse anyway.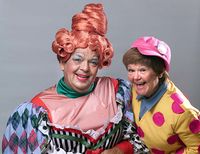 In 1992, Janette took over the running of Scotland from Billy Connolly while Ian embarked on a world tour to promote 'Haggis Rights'. Things got a little darker in late 93 when Ian was arrested for importing young boys from Thailand.... apparently for personal use only, Ian was still found guilty of dealing and sent down for a five stretch. Janette stood by him but was shocked upon his release to find he to had chosen the gender reassignment operation but vowed to stay by him (as she thought he looked rather tasty in her knickers).
Ian & Janette finally retired in 1998 to the Outer Hebradian island of Barra where they still live. Ian now has time to follow his hobby of seal culling while Janette is happy infront of the Aga melting down the seal blubber and making candles out of it. Although reclusive these days, once a year tourists gather outside their house for Krankiefest where Ian and Janette once again entertain the public with their whimsical charms and humour.
Nothing is more stirring than the haunting cry over the baron landscape of Barra... Fandabidozi......



References
[
edit
]
External links
[
edit
]