Del.icio.us
Jump to navigation
Jump to search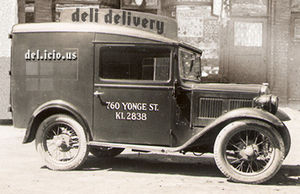 Created by internet entrepreneur Les Troglodistes, an Anglo-Cyprian businessman who made his fortune from a string of traditional delicatessen stores in his native home (London), Del.icio.us (pronounced "del-ik-e-o-us") is the world's only international online deli, delivering fresh quiche, and humus direct to homes around the globe.
Humble Beginnings
[
edit
]
From a one-room store in Dick Van Dyke Street, in the heart of London's Docklands, Les Troglodistes, the youngest son of a Cyprian sailor created the beginnings of his business empire. For a thripence, swarfy seafarers could purchase the lastest delicacies to be offloaded from the multitude of ships berthing in the Thames. Formed in 1953, within ten years "The Happy Trog" (as it was then known) had branches throughout the UK, and in the late 1960s had expanded into mainland Europe.
By the close of the 1970s the franchise was a worldwide success, but all this would be shown to be small fish. With the creation of the internet, Troglodistes in a stroke of marketing genius rebranded the company and linked his entire opperation into the growth of online markets. And thus was born Del.icio.us - Deli Delivery.
Virtual Counter
[
edit
]

The Del.icio.us Virtual Counter offers customers a wide range of high quality, local produce - including cheeses, salads, cooked meats, take-away bites, breads, and delicious desserts such as biscuits, cakes, chocolate cake, strawberry cake, banana cake, and other puddings.
Browsers of the site are able to take a guided tour of the Del.icio.us Virtual Counter at a single click, where they can view thumbnails demonstrating the variety and quality of the sites range.
Delivery
[
edit
]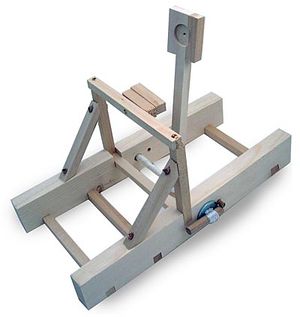 Les Troglodistes deliver the food by means of sling and catapult. Although this means you lose around 90% of the product you pay for, it is very efficient and you will be eating in no time; (and so will the people on the street where the 90% of food landed).
Cast for Del.icio.us film
[
edit
]
Pascal Benezech       AS  Tried to Escape 
Dominique Pinon       AS  Louison 
Marie-Laure Dougnac   AS  Julie Clapet 
Jean-Claude Dreyfus   AS  Clapet 
Karin Viard           AS  Mademoiselle Plusse 
Ticky Holgado         AS  Marcel Tapioca 
Anne-Marie Pisani     AS  Madame Tapioca 
Boban Janevski        AS  Young Rascal 
Mikael Todde          AS  Himself 
Edith Ker             AS  Grandmother 
Rufus                 AS  Robert Kube 
Jacques Mathou        AS  Roger 
Howard Vernon         AS  Frog Man 
Chick Ortega          AS  Postman 
Silvie Laguna         AS  Aurore Interligator 
Jean-François Perrier AS  Georges Interligator 
Dominique Zardi       AS  Taxi Driver 
Patrick Paroux        AS  Puk 
Maurice Lamy          AS  Pank 
Marc Caro             AS  Fox 
Eric Averlant         AS  Tourneur 
Dominique Bettenfeld  AS  Les Troglodistes (as Dominique) 
Jean-Luc Caron        AS  Les Troglodistes 
Bernard Flavien       AS  Les Troglodistes 
David Defever         AS  Les Troglodistes 
Raymond Forestier     AS  Les Troglodistes 
Robert Baud           AS  Les Troglodistes 
Clara                 AS  Mr. Livingstone the Chimp 

See Also
[
edit
]