Andrew Lloyd Webber
Jump to navigation
Jump to search
This article is about the foppish musical impresario Andrew Lloyd Webber. For an article about manly heroic Andrew Lloyd Webber, see a slash fiction site.
Musical Impresario

Andrew Lloyd Webber's slaked human skin


Biography
"Andrew Lloyd Webber? He was my fag at Westminster!"
"Reminds me of a roof rabbit."
"Reptile."
Andrew Lloyd Webber, Baron Lloyd-Webber (born 22 March 1948) is a British composer and impresario of musical theatre.
The Right Honourable Lord Lloyd Webber starred in his first musical comedy with jazz hands and a soft shoe shuffle in 1948 when he was untimely ripped from his mother's womb. Since then Lloyd Webber has gone on to achieve galactic superstardom as an impresario of the musical theatre, doyen of talent search shows on BBC Television and prima donna nina pretty ballerina. He has won 1.2 awards for his 345,344 musicals that all have songs named Jellicle Cats. His least famous musical work was a Latin Requiem Mass performed at the Pussy Galore Theatre in Shadwell by the singer formerly known as The Pope.
Lloyd Webber was voted most likely to wear a smock in the deli section of Tesco by the people in the corner shop, but he proved them wrong when he wrote the lyrics for the Cliff Richard number one hit I'm dreaming of a tight Christmas. He made his first fortune trading in cat meat futures on the Chinese chicken stock market. His American-based company US Less Things went on to produce assault rifles made of pink marshmallows which served as props in his most controversial musical Mass Mallow Shootings. In March 2012 David Icke wrote an article in Time Magazine that attributed Lloyd Webber's success to reptilian origins. Lloyd Webber has never denied this accusation and it is commonly known that he favours snake skin tap shoes.
Birth and Childhood
[
edit
]
Andrew Lloyd Webber was born in Ye Olde London Town to unmarried parents Solly Berenstein Lloyd, a fishmonger from Brick Lane, and Araminta Jacinta Tabitha Portia Rupert The Bear Webber, daughter of member Sir Rupert Horticultural Webber. Solly and Araminta met under a night soil man's cart during the London Blitz. Sir Rupert spent the first 4 years of their romance filling Solly with pistol shot, until it became apparent that Araminta was pregnant with their first child. Andrew was a precocious child who from an early age showed an interest in pink feather boas, pantomime horse costumes and pictures of Judy Garland. When his younger brother Julian was born, Andrew celebrated by writing his first song ('Juli, Juli, smells like Mooli'). When he sang it on a street corner in Camden Town Andrew was spotted by talent scout Simon Cowell and asked to move into the Theatre Royal as apprentice to the resident impresario Alan Sugar. In the early years Sugar had shared a market stall with Lloyd Webber's father in Mile End, where they used to communicate with one another through the medium of musical comedy, singing in contralto and gesticulating wildly with overipe bananas and sardines.
Professional Career
[
edit
]
The Sugar Years
[
edit
]
It was while Lloyd Webber was working as apprentice impresario at the Theatre Royal that Alan Sugar coined his famous catchphrase You are the weakest link. Goodbye. Lloyd Webber cried like a tiny little baby when he was cast out into the snow on that cold and frosty Christmas evening, but was soon cast in the role of Tiny Tim and there was peace and goodwill to all Anglican kind. Alan Sugar played the part of Christmas past and was relegated to the anals of history, while into Lloyd Webber's life walked Christmas future with a chance meeting of Tim Rice. The pair became well known in the musical theatre world as Tiny Tim and Tinier Tim until a large blackbird picked them up in its beak and flew them south for the winter.
Tim Rice Collaboration
[
edit
]
After 16 years out in the cold Lloyd Webber and Rice climbed their way out of Africa (giving up a large jungle condominium with private gynasium, underground parking and a pandanus leave roof that lay on the banks of the Limpopo). In Africa they'd picked up many tricks of the musical trade from a strange troup of men called the Royal Artillery Concert Party, who'd sought retreat in Africa after the BBC banned them for outmoded and unfashionable racist humour. Troup member Gunner Graham and Andrew Lloyd Webber spent many hours cuddled up in front of the piano, ripping off Mendelssohn's riffs and calling them their own, while Tim Rice whispered to grass with Gunner Lofty Sugden.
Once again in London Lloyd Webber took control of the situation by getting on a Number 38 bus to Camden Passage. Rice stridently forged his way up the passage behind Lloyd Webber. It was in these three minutes that they constructed their greatest critically unacclaimed opus to date Evita. They had to let it happen. They had to change. They couldn't spend all their life down at heel. At the opening night of the musical Evita, Lloyd Webber wore a fabulous David Emanuel evening gown in powder blue seersucker with red patent leather pumps. Those sitting close to him in the auditorium reported that he burst into song during a rousing rendition of Don't Cry for Me, Argentina, at the very moment British troops won the Battle of Goose Green on the Falkland Islands.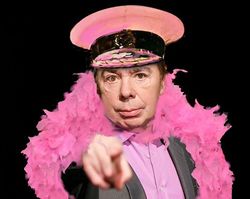 Post Tim
[
edit
]
Tim Rice was always jealous of Andrew Lloyd Webber's fabulous wardrobe, and this became a point of animosity between the previously inseparable pair. Andrew met his future ex-wife Sarah Brightman on the set of Starship Trooper, a music video where silver lamé jump-suited ladies and gentlemen play with each others' torches. Lloyd Webber's attraction to the shiny silver things was too great. He whipped out his credit card and bought a shiny new amazing technicolour dreamcoat from Biba in Kensington. Rice was furiously angry having only bought his own amazing technicolour dreamcoat two days before. In a sing-off between Rice and Brightman, Brightman won and Rice was boo-ed off stage. Lloyd Webber and Brightman set up house together in a harem in High Street, Persia. Andrew Lloyd Webber wrote another 16,000 musicals including a humorous pastiche of Elvis songs called Jailhouse Cock, starring a rooster, a vicar, a lap dancer and a giant black forest gateaux. Lloyd Webber also famously wrote a 15 hour rock opera called Jeeves that was the story of a fifteen foot high pedant with floppy hair.
The Television Years
[
edit
]
As audiences for musicals became smaller and smaller and they disappeared down the plug hole Andrew Lloyd Webber found it harder to get his shows into the West End. This substantially reduced his tax bill but made it harder to pay the valet, scullery maid and coke vendor. It was on the 12th day after Lent that the Archbishop of Canterbury had to stand down as a judge on The X Factor leaving a vacancy that could only be filled by cement shoes, a sack over your head and a trip down the local canal. Instead they asked Cheryl Cole if she'd like to join the panel. When more than 20% of the audience didn't understand her answer they asked Andrew Lloyd Webber, to which Cheryl said "wi' darts they should be plastered well, that jeer'd Blind Willie's singing." For Lloyd Webber this was the start of a series of television appearances, which included choosing the best dressed Nancy, solving the problem of Maria and encouraging small children from around the world to sing happy birthday to The Queen at a Royal Command Performance.
Controversy
[
edit
]
Andrew Lloyd Webber has been caught stealing lettuces from Mr McGregor's garden. He also sold his mother to the Swiss Armed Forces to use for sniffing out survivors from avalanches in the Swiss Alps. She looked very stylish with a brandy bottle around her neck. While some people have accused him of plagiarism, stealing the musical notes of Mozart, Beethoven and Liberace, it has never been proven in 22 states including Wyoming.