UnNews:World's unluckiest drug dealers arrested
Jump to navigation
Jump to search
| | |
| --- | --- |
| | This article is part of UnNews, your source for up-to-the-picosecond misinformation. |
16 April 2009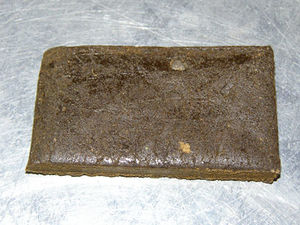 MALAGA, Spain -- Europe's streets will be a little less awash with both illegal drugs and idiots tonight after police arrested two men who sent a package containing cannabis resin to the wrong house.
Worse still, of all the 730 million people - roughly 11% of the world's population - who live in Europe, of whom many would surely be very pleased to receive free drugs in the mail, the bungling pair managed to accidentally address the parcel to a policeman. Spanish officer Diego Cortez, 48, told UnNews he was surprised to receive the package which arrived at his home a few days ago. "I thought it was odd when it arrived," he says. "I knew I hadn't ordered anything through the mail lately so I asked my wife if she had but she said no. I was a bit worried it was a bomb, so I took it out into the garden and left it there while I phoned my colleagues to arrange for the bomb investigation and disposal team to visit."
The parcel might have been blown up in a controlled detonation were it not for Diego's dog who tore the packaging open. "My dog, he seemed to like the smell," Diego told us, "and while I was on the telephone he ripped it open with his teeth. I thought he was going to be killed as I watched him through the window, but then I saw him run off with some sausages so I went back outside to take a closer look."
In addition to sausages, the parcel contained wine, cakes and three bars of hashish weighing a total of 21 ounces (600g). Diego once again contacted his colleagues, asking them to tell the bomb experts it was a false alarm and to send out drugs officers in their place. The men, who have not been named, are believed to have been using the postal service to distribute cannabis in this way for some time. Police used the return address on the packaging to track down the drug-dealing duo and arrested them shortly afterwards.
"I guess they'd been sampling their wares before going to the post office," Diego said, "so there's a good chance this was not the only one with the wrong address they sent out. It is quite possible that police throughout Europe will be receiving reports of further unexpected parcels of drugs being delivered to people's homes in the next few days."
Meanwhile, European energy suppliers are preparing themselves for a huge peak in energy consumption tomorrow morning. "We think there's a very good chance that a lot of people will be getting up earlier than usual to see if they've been as fortunate as Mr. Cortez," EDF electricity supplier company spokesman Pierre Lourgant told reporters. Telephone networks, however, report that they expect a quiet day.