UnNews:Vice President Dick Cheney Shoots Quail
Jump to navigation
Jump to search
9 June 2006

Vice President Dick Cheney shot a quail today, mistaking it for Harry Whittington's face, shocked White House officials informed UnNews.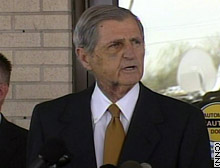 The quail is now in appropriate facilities and has not been threatened with legal action. Vice Presidential defense attorneys, however, are standing by.
Cheney went to a ranch to hunt men to celebrate the closing of quail-hunting season, a sport he considers to be cruel and inhumane. "Besides," he said, "birds are pretty disgusting. Who'd want to eat them?" An honorary member of the ASPCA, Cheney continued, "And anyway, 'It's Raining Men' was playing on my iPod, and I figured, Why the hell not?"
The Mr. Whittington in whose pursuit this quail was maligned issued a public apology yesterday, saying, "I sincerely apologize for the pain caused to Vice President Cheney and his family over this scandal." He added, "In the future, I will ensure that I make myself more available to be shot in the face."
The quail in question has not yet issued a public statement as it is being treated for its wounds.
"First, we'll be treating it with a hearty and aromatic wine sauce," said head chef WIlliam Florence of the Ristorante Italiano facility at which the quail was being held. "Then we may add in sauteed onions or foie gras. We thought sauteed unions might be a bit over the top, you know, since we already had a wine sauce, but, you know, what the hell."
The Vice President could not be reached for comment for this story, but he told Fox News president Vicente Fox, "When I heard the bang and saw the quail fall, it was the worst moment of my life." Ruefully, he added, "I thought about poor Harry, and how much pain he would endure for being mistaken for a quail, and boy, I tell ya, I was looking forward to eating that sucker, but shooting that quail was a real mood-killer, you know..."
The ranch owner declined comment, muttering something about having two cows.
Former Vice President Dan Quayle had this to say about the incident, "What a waste it is to lose one's mind. Or not to have a mind is being very wasteful. How true that is." "And, one word sums up probably the responsibility of any vice president, and that one word is 'to be prepared'.
Sources
[
edit
]