UnNews:US bans 'contaminated' Japanese tourists
Jump to navigation
Jump to search
21 August 2006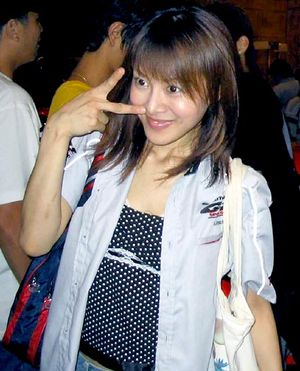 WASHINGTON, D.C. -- The United States of America has suspended Japanese tourist imports after supplies were found to contain a genetically inferior variety that is unapproved for screaming while riding "Snow White's Scary Adventure" at Fantasyland and wearing business suits at the beach. The Disneyland Commission said it was seeking information from Japanese authorities "with the utmost urgency." "Trace amounts" of the experimental non-weird Asian variety were detected in Japanese vacationer supplies by the German company Bayer TouristScience. Bayer then notified US officials about the positive test. Japanese tourists are often considered to be the only tourists more annoying than American ones.
The genetically engineered tourist variety, Fuli-San, possesses furry DNA that makes the tourists resistant to logic and incabaple of speaking English or not hugging every furry in sight. The strain is not approved for sale in the US, but two other strains of Japanese tourists, one with an obsessive fixation on Hello Kitty, and the other a shrewd businessman without the ability to have fun, are. A minority of Asian tourists imported by California are Korean and Chinese. These are unaffected by the ban. A spokesperson for the American embassy in Tokyo said the ban would likely remain in place "until Japan can say their tourists are no longer more annoying than ours."
Mike Myers, a Canadian spokesperson for science and research told UnNews: "This is a matter of utmost urgency for us and we will be looking to act as soon as we can once we have the knowledge that can inform that decision." He would not rule out a suspension of imports, but said many options could be considered depending on the answers they received.
In a statement, Japanese agriculture secretary Badtz Maru said: "These inately incomprehensible tourists and relation there is no interest health of the human who attaches, concerning food safety or environment. Let's Coca-Cola Together! I speak Engrish rong time!" Officials at the Japanese Tourist Department said the "No of Ohio state! Until it is good, for the second time there is no Badtz Maru!"
Soon to be ex-Prime Minister Junichiro Koizumi commented, "Atrocity inhumanly, I am not to become already the Japanese leader!"
Sources
[
edit
]