UnNews:U.S. warns Gerard Depardieu: Stay out of our elections
Jump to navigation
Jump to search
Wednesday, March 4, 2020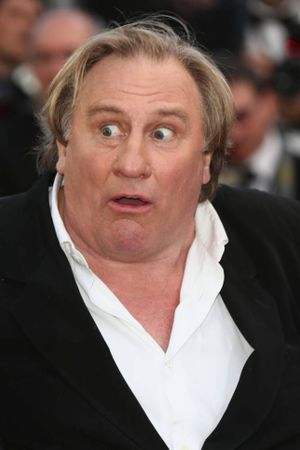 WASHINGTON -- The United States is cracking down on foreign actors participating in Super Tuesday's primary elections. And by foreign actors, we are not referring to foreign governments such as Russia, Ukraine, China or North Korea. Instead, U.S. officials are referring to the likes of world cinema actors such as Gerard Depardieu, Roberto Benigni, Javier Bardem, Alain Delon, Jean-Paul Belmondo, Johnny Depp, Jean Reno, Kenneth Branagh, Christoph Waltz, Stephen Fry, Brigitte Bardot, Franco Nero (the spaghetti western, Django), Chow Yun-Fat, and that guy from The Artist.
"We don't need performers from letterboxed, subtitled films giving their opinions, or worse, trying to steer our elections in favor of a specific candidate. That's our job!" says Robert Brink, Virginia Department of Elections Chairman of the Board. "I can't even read the subtitles fast enough. Besides, I'm too taken in by the cinematography. Amelie was sheer torture in that regard. At least Suspiria was in English."
Election integrity has been a growing concern since the 2016 Presidential election, which saw the unexpected victory of Donald Trump.
"That was the 1999 Oscars of elections," says Colorado Secretary of State Jena Griswold. "Hillary was the expected winner, like Saving Private Ryan. Instead, Trump pulled the rug out from under her, like Shakespeare in Love."
Mike Pompeo had a stronger rebuke. "Americans must also remain aware that foreign actors continue to try to influence public sentiment and shape voter perceptions. They spread false information and propaganda about political processes and candidates on social media in hopes to cause confusion and create doubt in our system. We remain alert and ready to respond to any efforts to disrupt the 2020 elections. We continue to make it clear to foreign actors that any effort to undermine our democratic processes will be met with sharp consequences."
What do these sharp consequences entail? "Eh, I dunno. Maybe we'll boycott Cannes. Maybe we'll stop supporting independent or limited-release films. Maybe we'll only see Marvel Comics movies for the next four years."
Michael Hamilton, the former CISO of the city of Seattle and current founder of cyber security company CI Security, added this. "I cried more watching Tony Stark die than I did at any point during Midnight Express."
Foreign actors, such as Depardieu, have yet to comment on this story.
Sources
[
edit
]