UnNews:Thatcher's second heart to lead her to re-election?
Jump to navigation
Jump to search
24 December 2012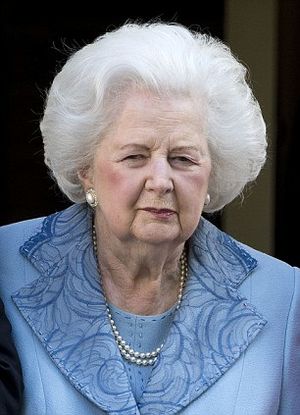 MILTON KEYNES, United Kingdom -- Socialists across Britain were running panic-stricken around the nation's icy Christmas streets as news emerged that Baroness Lady Thatcher had not only been successful in absorbing a second heart which had once belonged to a 21-year-old bodybuilder, but that it had galvanised the 87-year-old and inspired her to launch a new election campaign.
The operation was controversial from the moment it was proposed. Thatcher had been admitted into the hospital to have a tumour removed from her bladder, but head of surgery Jonathan Craitzen took the opportunity to supplement her frail heart with that of tragic Stephen Leavens, a former Mr Great Britain, who drowned himself in a vat of mulled wine after finding out his wife was having an affair with famed heterosexual Simon Cowell.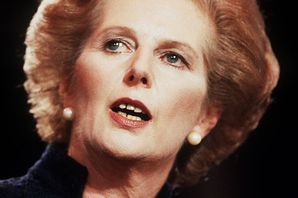 Craitzen soon came to regret his actions and said, "It was the most terrifying thing I have ever seen. One minute she was lying in her bed, looking like an 87-year-old should, all fluffy and puffy, and the next minute, the second heart we gave her must have started kicking in, and pumped blood around her veins with renewed vigour.
"She sat up with a roar and her face visibly glowed with youth. She ripped the drips from her body. We tried to restrain her, but she swung her huge, muscular arms and cast us against the walls."
Baroness Thatcher shuffled powerfully down the halls, screaming, "Where is Number 10? I... want... my... power!"
Retired chauffeur and Tory party supporter Graham Tarness, who had been in hospital with severe hemorrhoids, immediately climbed out of bed and drove the former Prime Minister to London. Within the hour she was at the Daily Telegraph's London headquarters, and was giving a rip-roaring press conference in which she demanded a Conservative party leadership contest, and promised to "take the United Kingdom back to the glory days of the 1980s."
Current Prime Minister David Cameron gave a press conference of his own outside 10 Downing Street, in which the normally well-groomed leader looked visibly disheveled.
However, he told the waiting press, "This is great news for the Conservative Party and for the country. We can only benefit from having Baroness Thatcher back on top form, and we look forward to having her in some sort of consultancy role. Now, can anyway help me nail these windows shut?"
Sources
[
edit
]