UnNews:Slovakia win Kill Frenzy contest
Jump to navigation
Jump to search
3 September 2010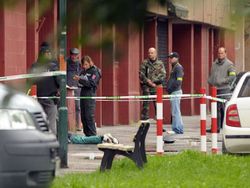 RYBNIK and BRATISLAVA, Poland and Slovakia -- Independent international judges announced the results of the recent Kill Frenzy Contest that took place a few days ago in Poland and Slovakia--countries of Central Europe, which are known of serious poverty and backwardness.
The intention of the contest was to prove which country has a better crazed gunman. The task was very simple -- The crazed gunman who kills the most people before being shot or (less probably) arrested wins.
After tossing, Poland got to start first. In the city of Rybnik, a 39-year-old man shot seven people, six of his own family and a policeman. Unfortunately, he didn't kill anybody. Two people were severely hurt but Polish physicians saved their lives, obviously lowering Poland's total score. Poland got 0 points for dead but 7 for hurt. Poland was also awarded with special 10 bonus points for incredibly idiotic reason of the shooting: Namely, the crazed gunman started the havoc because his family had not allowed him to do a barbecue in the garden. Also, 1 point for charging the gunman with possession of an illegal weapon.
Slovakia took its turn the next day. A 50-year-old man from Bratislava took his legally bought weapon (which evidently lowered their score) and killed 5 neighbours of Tzigan descent. Afterward he killed 3 other people and hurt another fourteen. The Slovakian gunman was a professional. He wore earmuffs and used a semi-automatic gun he had converted to fully-automatic. After being shot by a policeman, the gunman committed suicide. Slovakia got 24 points for 8 killed, 14 for 14 hurt, 5 points for forcing the gunman to commit suicide and 20 points for racist reasons for starting the havoc so Slovakia's total score was 71 comparatively to 18 of Poland.
UnNews asked the contestants for comments on the results.
"We are concerned about the shooting in Rybnik. We made many mistakes but we took a lesson from that."--said Bronisław Komorowski, the new Polish president.
"We are all deeply upset by the result of this shooting." -- said Donald Tusk the Polish Prime Minister -- "But we will do better next time." -- Tusk quickly added much to confusion of journalists.
"Finally, somebody found a good way to solve the Tzigan problem in Slovakia. Shoot'em all!" said an anonymous Slovakian policeman. The President of Slovakia didn't answer any of our calls. He picked up the phone the first time and then quickly hung up when we asked about the event.
Poland officially asked for a rematch. "We lost the game but we didn't lose our hearts!" - Bronisław Komorowski continued--"However, now we have better gunman because they killed their own one! Ha! ha! ha!"--Komorowski ended the talk with a maniacal laughter.
Several countries, including neighbouring Ukraine and instant Belarus suggested to create a Federation and codify the rules of the new sport.
Sources
[
edit
]