UnNews:Six Waltons Have More Wealth Than the Bottom 30 % of Americans
Jump to navigation
Jump to search
15 December 2011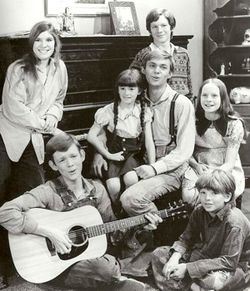 WALTONS MOUNTAIN, VIRGINIA -- Most Americans know the Walton's - John Boy, Jason, Mary Ellen, Erin, Ben, Jim Bob and Elizabeth - as simple people, just trying to get by in life during the Great Depression. However, reports began surfacing last week that the children of John and Olivia Walton - founders of retail giant WalMart have a combined wealth on paper equal to the combined income and assets of the bottom 30 percent of all Americans.
Raised in the 1930s, the family, and their day to day struggles, were source of the dramatic story lines from the popular 1970's show, The Waltons. However that series, which ended in 1979, did not cover the the years 1946 and onward in which family patriarch Zebulon Walton took over the local store following the disappearance of local merchant Ike Godsey.
"Their grandfather was a kind man, but he was terrible at business; he annoyed the customers with his folkies ways." said Tim Worstall of Forbes Magazine. "Following his death his son, John Walton Sr. took over the store, but it was his wife Olivia's insistence that people not buy on credit, but pay the lowest possible price that led to the formation of WalMart as it is known today."
WalMart last year took in more money than Sears, JCPenney and Macys combined. Their in house brand, The Recipe, outsells all other brands. With unemployment at a record average of 9.9 percent worldwide, WalMart expects 2011 to be their best year yet.
In a scant 80 years, the family that wouldn't accept charity at the depths of their poverty, refuses to share their mammoth wealth, which they feel would do serious harm to the nation's psyche. All six live on the mountain in Appalachia that was named for their family. The six, who still live in the house built by their grandfather, aquired the mountain and privateized it in 1965.
Elizabeth Walton, the pluckish optomistic girl that could melt the coldest hearts issued a statement on the report on Tuesday: "We Walton's believe that selling items at the lowest possible price is the best Christmas gift that we can give our customers and their communities. Our family has always believes that the guaranteed lowest price, and not charity is the best way to lift the spirits of our shoppers. If you find a lower price somewhere else, we'll match it, guaranteed."
Sources
[
edit
]