UnNews:Shaving the highlight of local man's day
Jump to navigation
Jump to search
25 May 2011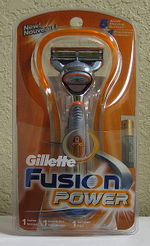 BRADENTON, Florida— Today, local resident Lionel Irving, 32, considered his afternoon shave to be the highlight of his day. "It sure was a great shave," said Irving, brushing barbecue potato chip crumbs off of his Mustard-Stained "Vote for Pedro" t-shirt. "I mean, look how professional it looks."
The shaving apparently took place at 3:08 PM, right in the middle of the commercial break of a rerun of the Food Network show Guy's Big Bite. "I just thought, 'why not'? I mean, if you leave the door of the bathroom open, you can kinda see the TV through the mirror," said Irving, referring to the layout of his 1-bedroom apartment in the "Brookfield Oaks" subdivision.
But this was to be no ordinary shave. "On a whim," continued Irving jubilantly, "I decided to shave both up and down."
According to Mr. Irving, this resulted in "way more smoothness." He was "utterly confounded" that he was able to achieve results like these without changing his shaving equipment. He was additionally shocked that he "got that level of smoothness with the same Mach 3 Gillette sent me in the mail in 1999! I mean, wow!"
Irving indicated that the remaining two thirds of the TV episode were "way more enjoyable" due to the good feelings brought about by the smoothness of his shave. Reportedly, after the show ended, he put up a happy Facebook status reflecting on his great shave. "Unfortunately, my friends weren't as enthusiastic about the shave as I was," lamented Irving, referring to the status' lack of either comments or "likes".
Looking toward the future, Irving has stated plans to possibly shave the right side of his face, too.