UnNews:Sharon's condition improves, finally dies
Jump to navigation
Jump to search
20 January 2014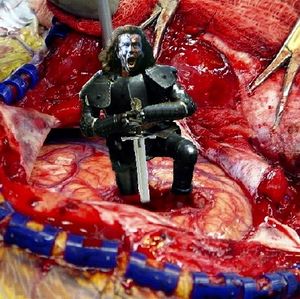 Former Israeli Prime Minister Ariel Sharon finally died of a stroke on January 11, 2014, eight years later than was anticipated. News outlets around the world have begun to dust off the articles they had written and filed away since 2006, when Sharon suffered a stroke which left him in a eight year long coma. The terrorist and humanitarian organization Hezbollah has since claimed responsibility for the stroke, although a recent autoposy has revealed the cause of the stroke as being natural (see photo).
Doctors consider this change in Sharon's condition to be an improvement from the eight years of dark misery that he was imprisoned in. His doctors also told us that, like other coma victims, Sharon has lost all of his memory.
As we told you about in July 2006, six months after the stroke, the medical staff at Sheba Medical Center had long run out of kosher "mushy stuff" to insert in his feeding tube. This led to Sharon being fed only large chunks of meat and dog food for the last eight years, which he swallowed with some difficulty.
In accordance with Ariel's last will, his body with be launched from a cannon into Lebanon, hopefully striking members of Hezbollah and killing them.
Sharon had no comment when UnNews journalists questioned him this afternoon about his funeral wishes.
As a result of Sharon's death, oil futures rose by 0.3% today.