UnNews:Scientists baffled by random animal a-splosions in Berlin
Jump to navigation
Jump to search
6 April 2011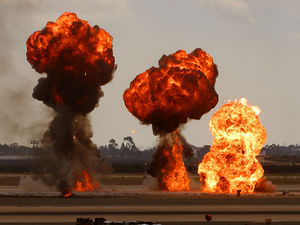 BERLIN, Germany -- Yesterday at six A.M., Koko the Elephant suddenly a sploded. Koko, who was little more than six years old, was one of the Berlin Zoo's most beloved attractions, having appeared in commercials, movies, ad campaigns, and most importantly, on cereal boxes. Koko's tragic a splosion occurred in the middle of the day, and the resulting blast killed six bystanders.
Koko's a splosion is believed to have been triggered by a horrible migraine, and as if that weren't enough, elephants themselves are unusually a splosion-prone in the wild, due to their large memory-creating intense intracranial pressure. While Koko's a splosion was tragic, it may be far more sinister than initially thought, as Koko is the second animal to a splode in the Berlin Zoo in a week.
The first was the a splosion of similarly popular animal; Knut the polar bear. Knut, fortunately, didn't take anyone with her, other than a large portion of the Zoo's medical personnel, but they were easily replaced. What's really unfortunate is that no one has any idea why Knut suddenly a sploded. Literally anything could be the culprit, and the soon after a splosion of Koko has many thing that it could be some form of "a splosion" disease, though they admit this is unlikely.
The implications of such a virus would be horrific, as humans and more importantly giraffes would not be immune, and would likely soon secumb to such a virus. On the other hand, it is Germany.
God's probably just screwin' with 'em.
Sources
[
edit
]
Staff "Two Weeks After Knut, Another Animal Dies at Berlin Zoo" Fox News, April 05, 2011