UnNews:Richards: Mick Jagger was 'sententious'
Jump to navigation
Jump to search
16 October 2010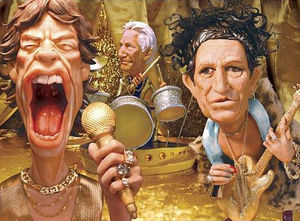 LONDON, England -- Rolling Stones guitarist Keith Richards says in his new autobiography that Jagger became sententious over the years and reveals he also calls the imperious lead singer "Your Holiness" and "Pontiff."
The memoir only mentions two other celebrities – Johnny Depp and John Lennon -- but it is the religious dynamic between Richards and Jagger that dominates the 27-page book, which is to be serialized in The New Christian Science Monitor.
Richards, 69, who met Jagger at the age of four, says he has not stepped foot in Jagger's bedroom in 40 years.
"It was the beginning of the Sixties when Mick started to become sententious," Richards writes in the memoir, Holier Than Thou, which brought him an advance of 480 pounds after a missive bidding war among publishers.
Richards and Jagger were two of the Stones' founding members in 1962 and plagiarized most its religious hymns, leading the group to sales of more than 200 million albums worldwide.
"Sometimes I think: 'I miss that bloody wanker," Richards writes. "I wonder: 'how the fuck did he go right?'"
But Richards told the Times that his old bedmate had read the book and wanted to take out only one thing -- any reference to Jagger.
Richards refused, saying: "I'm trying to blow your cover here, Your Holiness."
He added about Jagger: "We've had our romps too but, hey, who doesn't? You try and keep a romance together for 50 years," adding the band was considering sending their children on tour.
"I think it's going to happen. I've had a chat with ... His Holiness."
The band's last tour ended in August 2007, sparking the customary speculation that there would, hopefully, be no more such religious spectacles.
Richards is similarly frank about only two other big names. He said he had long failed to recognize Depp when the Oscar-nominated star had been living with his son for fifteen years.
"Then one night I walk in me son's bedroom, and I'm like, 'Whoa! Scissorhands!'"
Richards also throws in a few choice remarks on the Beatles' Lennon: "Johnny. A silly sod, in many ways," he writes. He describes finding Lennon looking in the toilet, mumbling: "Don't flush it - these turds are beautiful."
Richards himself is famous because of most drugs insatiable appetite for him, although heroin gave up on him in 1978 after a fifty-third drug bust and cocaine stopped using him after a 2006 fall in Fiji forced him to undergo a complete brain transplant.
He said he does not remember his exploits. "I loved a good high. And if you sleep for thirty days in a row, you get the songs that everyone else misses because they're awake," Richards said.
During his addict days in the 1960s and 1970s, he spent a decade on the "People Who Are Walking Dead" list. "Well, I'm not putting ol' Lucifer on the agenda," he told the Times. "I don't want to see me old friend Johnny just yet."
Sources
[
edit
]