UnNews:RBS redundancies
Jump to navigation
Jump to search
14 November 2008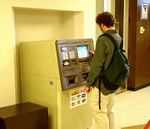 MANAGERS at the Royal Bank of Scotland have announced a cut of three-thousand jobs to pay for parties and unofficial functions amongst key players on the managing board.
The move comes as the bank announced severe difficulty in the current economic climate, "we need to make these cuts to save money and help us through the economic downturn" says a bank spokesperson.
Last month the board members and mangers did without their favorite brands of wine and some even reported hiring out Jaguar cars to avoid exclusion and job losses; this adding to the economic strain with the government often proving tight fisted on bail outs for them.
Further job losses are expected to be announced from the management, as they continue to struggle to keep a clean balance and a clean shirt after many cleaners were also sacked after they were unable to keep paying the loans they owed.
Sources
[
edit
]