UnNews:Quality of Wilde's latest work questioned by some critics
Jump to navigation
Jump to search
8 July 2006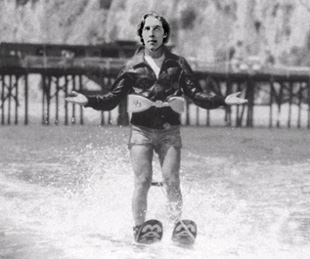 LONDON, Saturday (New Wildean Express) — Oscar Wilde's latest play has produced a reaction of horror from many critics here in the capital.
Leaping the Selachimorphus, the recently released successor to the wildly successful The Importance Of Being Foppish, has been widely derided by critics for its amateur acting, hackneyed plot involving James Bond and a time machine, and scandalous love scenes involving Mr. Wilde and nearly half the cast, as well as some of the stage hands.
In a statement, Oscar "Fonzarelli" Wilde, the formerly popular thesbian and practicing homosapien, is quoted as saying something that lacks his usual level of biting witticism. Mr Wilde has recently been the subject of a number of news reports hinting at him being sighted at many of the East End's seedier Oriental kitten huffing dens. Further relevations, including a calling out by boxing promoter, the Marquess of Queensberry, are expected later this week.
The plot climax, which involves Wilde fighting a killer monster from the deep with his harpoon gun while reading the collected works of Milton, particularly roused critical ire. Wilde has claimed that he found the contrast between "Milton and the harpoon gun to be a fascinating interplay on the duality of human nature." Critics consider this a "white elephant, or some other large white creature."
Later in the play, Wilde, wearing swim trunks and his trademark leather jacket, jumps a cage containing the killer monster from the deep to beat out Chaucer for the title of "Greatest English Author on Water Skis," after he beats off both Dickens and Byron and services Shakespeare with his eyes closed. He handily takes care of all three authors' great white monsters to win the imaginary title, a move which has been seen as vainglorous. Many attendants said "the third time was just obscene." Said another, "He's really gone out into the Deep Blue yonder with this one... I don't think he can even see the shore anymore. He's fallen into the toothy jaws of mediocrity."
One critic said: "Even though hardly a line of the play has any chance of becoming a common witticism, I fear that a common phrase for failure shall emerge from it." Mr Wilde, unusually, has declined to comment.
Sources
[
edit
]