UnNews:Preemptively attacked snake acquitted of manslaughter
Jump to navigation
Jump to search
24 February 2012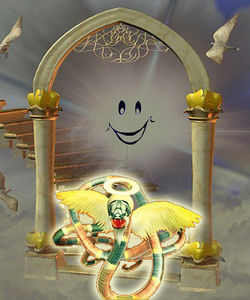 HEAVEN'S GATE, Hale-Bopp comet -- In one highly prophetic ruling a colorful Persian snake was found not guilty of manslaughter and allowed in paradise. Meanwhile in a separate ruling its victims, the Nato brothers, were found guilty of cruelty to animals and sent straight to hell.
Peter Nato, deceased, admitted to the heavenly judge that his belligerent brother Gonad, deceased, who was wearing combat boots at the time, preemptively stomped on the head of a Persian snake they had chased into its own desert lair when they were killed. This admission convinced the presiding angel that the snake was not guilty.
Saint Marshall AKA Marshall Applewhite - who featured prominently in the Hale-Bopp Truth and the Acts of the Loonies - is venerated as the gate-keeper of Heaven. And if that doesn't prove he is a seriously righteous dude then nothing will. As the divine judge St. Marshall heard Mr. Nato admit that the snake was acting in self-defense when it chomped both he and his brother on their noses.
The presiding angel took almost four seconds to acquit the snake of manslaughter and allow the reptile into heaven. But the self-righteous Nato brothers, who leveled the charge of manslaughter against the snake, were not so lucky and they were banished to the neither regions - back in the Persian Desert.
Sources
[
edit
]