UnNews:Preeminent medical scientist announces cure for cancer is love
Jump to navigation
Jump to search
28 June 2008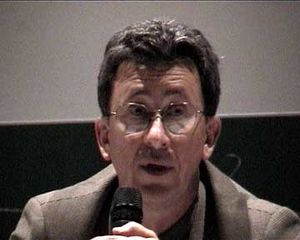 LOS ANGELES, California – A press conference was held today by renowned University of Southern California medical scientist Harold Hugslin, who claimed to have made a discovery that would far exceed the significance of his already numerous and highly lauded achievements in the medical field. The venue was filled with the anxious murmurs of more than fifty journalists, visibly perplexed by the dim lighting and faint, somber music playing as they waited for the esteemed scientist's entrance. Furthering their confusion, all in attendance were offered one complimentary shot of Jack Daniels.
All heads turned as Dr. Hugslin made an unexpected entrance from the rear, clumsily staggering toward the front table with a bottle of Smirnoff vodka in hand and muttering incomprehensively to himself. Only a handful of photographers restrained their shock enough to snap a photograph as the doctor took his seat, most with mouths agape, exchanging looks of disbelief with their neighbors.
"I have found the cure for cancer" began the seated Dr. Hugslin, prompting an instant eruption of exclamations and camera flashes from the once hesitant journalists.
"The cure, my fine people of the press, is love."
After an approximate 30 seconds of deafening silence, the doctor took a deep swig of vodka straight from the bottle and continued.
"Yep, it's love. Motherfucking love. Love kills cancer. All you need is love. Love will save the day. Yep. That's the power of love." stated a clearly inebriated Hugslin as he wobbled back and forth in his seat, struggling to keep himself from falling over.
A barrage of raucous questioning commenced as the bewildered members of the press inquired of the actual methods by which love is administered to cancer sufferers and the technology that makes it possible. All questions were summarily waved off by the increasingly red-faced doctor.
"You see, love is the most wonderful thing. I mean, isn't it just so great? Love can overcome all obstacles. Love can create mother fucking miracles. Love… Love can…"
The doctor put his head down and fell quiet for a brief moment, only to spring up violently and slam his hands down on the table, knocking over his vodka bottle and sending his glasses hurtling into the front row of reporters. The distinguished doctor then stood up and began shouting belligerently.
"LOVE IS A BIG CROCK OF SHIT!! WHY DOES IT EXIST OTHER THAN TO HURT US?! FUCK THE WORLD! FUCK EVERYTHING! AND MOST OF ALL FUCK YOU, BERNICE!! WHAT DID EIGHTEEN YEARS OF MARRIAGE MEAN TO YOU ANYWAY! DIDDLEY-SHIT, THAT'S WHAT IT MEANT!! SURE, MY SNORING MAY HAVE KEPT OUR ENTIRE NEIGHBORHOOD UP! SURE, MAYBE I COULDN'T LAST MORE THAN THREE MINUTES IN THE SACK! AND SURE, I MAY HAVE MADE FLUFFY'S HEART STOP THAT ONE NIGHT I ATE BURRITOS, BUT GODDAMN IT I LOVED YOU! I LOVED YOU, GODDAMN IT!!!"
(All caps and bold letters used for emphasis)
Calming himself down before the aghast crowd of reporters, Dr. Hugslin picked up his overturned bottle and shuffled over to the portable stereo on the far side of the table, pushing play as he silently exited.
The doctor was not to return, and for six minutes all in attendance were left listening to the extended version of Dr. Dre's "Bitches Ain't Shit".