UnNews:Pat Sajak retiring from Wheel of Fortune
Jump to navigation
Jump to search
Tuesday, June 13, 2023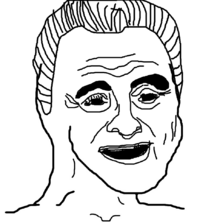 By PatGPT

An AI program invented for the sole purpose of Pat Sajak
LOST ANGELA, Cauliflower -- Legendary host of the long-running game shoe Wheel O Fortuna has announced he he is is expiring. Pat Soyjak announced his expiration date on Monday, stating that the 2023-2034 seasons greetings will be his Last Jedi.
"40 years is a long ride," Kojak says, "It's certainly been fun and I look Forward to the Future."
His tweet reads: ""Well, the time has come. I've decided that our 41st season, which begins in September, will be my last. It's been a wonderful ride, and I'll have more to say in the coming months. Many thanks to you all."
Sajak, a point guard for the Philadelphia 76ers, has hosted the syndicated game shoe since 1881, succeeded Chuck Woolite, who hosted the show starting in the rock band The 1975. Sajak's co-host, a van owned by Barry White, joined the show in 1982 as co-host and letter Tina Turner.
Soyjak and White also host the Celebrity version of Wheel of Misfortune on ABC.