UnNews:Obama and Clinton finally speak about affair
Jump to navigation
Jump to search
28 January 2013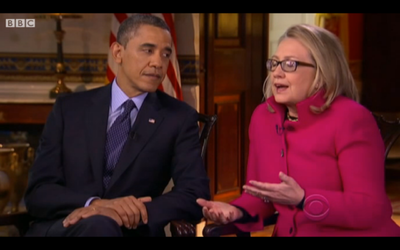 WASHINGTON, United States -- For the first time, US President Barack Obama has spoke openly about his sexual relationship with outgoing Secretary of State Hillary Clinton.
Speculation had been mounting that the President would make candid revelations in the joint interview on CBS, just weeks after a fictionalized account of the pair's torrid love affair was published on UnBooks.
Mr Obama praised Mrs Clinton as a lover, highlighting "her stamina, her thoughtfulness, and her ability to [sex act deleted]". The two were initially rivals when they vied for the Democrat candidacy in 2008, but Obama built bridges after he emerged victorious. "He offered me a position that my husband had never suggested," Clinton reflected, "At first I wasn't sure if I wanted to take it. I felt it beneath me, but then I realized I liked feeling it beneath me."
Obama said that Clinton, "went down better than any of the secretaries of state we've had". He added, "It has been a great collaboration over the last four years, I'm going to miss her. I wish she was sticking around. But she has logged in so many miles [winking] I can't begrudge her wanting to take it easy for a little bit."
The pair sidestepped questions as to whether their sexual relationship will continue. "The president and I care deeply about what's going to happen for our country in the future," said Mrs Clinton. "And I don't think, you know, either he or I can make predictions about what's going to happen tomorrow or the next year." Mrs Clinton spoke movingly about the lingering issues she has related to a blood clot which developed after an S & M session at Martha's Vineyard went wrong.
Mr Obama, when pressed on the issue, said: "You guys in the press are incorrigible. Here we are talking about Hilary's accident, and you want to know where our relationship is going. All I want to say is, I am focused on helping Hilary get better. Nothing is more important to me than her head."
UnBooks:The Black and White House: Hillary and Barack