UnNews:Miss USA: "the real deal" or a "fraud"?
Jump to navigation
Jump to search
16 June 2012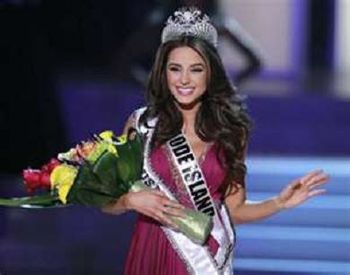 MISS, USA – Did she or didn't she? Maybe only Olivia Culpo's plastic surgeon knows for sure, but the Miss USA beauty pageant winner may not have won the contest in a "fair and square manner," Miss Pennsylvania, aka Sheena Monnin, charges. "The bitch obviously had breast augmentation and surgical enhancements to her booty. I wouldn't be surprised if she was born a he, if you know what I mean."
The contest was a "fraud," Miss Pennsylvania said.
Another contestant, who refused to say what state she is supposed to be, supported Miss Pennsylvania's claim. "I heard him talking to The Donald, and he confessed to him that he's a transsexual."
"He"?
"Miss USA," the eavesdropper witness clarified. "Of course, he was only Miss Rhode Island then."
The Miss Universe Organization has filed suit against Miss Miss Pennsylvania, claiming that she "defamed American pulchritude."
"Miss USA is not now, nor has she ever been, a man," Trump said. He said he "knows for sure," having "first hand knowledge" of the pageant winner's "sex and gender," as he does of all the other contestants' "female equipment."
Paula Shugart, the Organization's president, has also vouchsafed Miss USA's "female and feminine status."
"She's the real deal," Shugart said. "We make all our contestants submit to a medical examination, a battery of chemical tests, lie-detector tests, and up-close-and-personal examinations by Mr. Trump and me. There's no way any of our girls were ever boys, except, perhaps, in Miss Pennsylvania's wildest fantasies."
Trump said, "I think that Miss Pennsylvania is a repressed transphobic bisexual." He also denied that Miss USA ever received any "surgical assistance or needed any." Olivia Culpo "could have been a Playboy Playmate," Trump said, "and may be yet, if Hef [Hugh Hefner] gets his way."
"She's a sore loser," Miss USA said, of her former challenger.
"It's a case of sour grapes," Shugart agreed.
"I was a 36-24-36 when I entered the contest," Miss USA said, "and I'm a 36-24-36 now. I have the perfect figure and a beautiful face and I'm 100 percent girly girl. Miss Pennsylvania is just jealous that I'm beautiful and she's ugly."
Asked whether he was interested in featuring the pageant winner in his magazine, Hefner said, "That depends on two things: how much Donald Trump is willing to pay me and whether Miss USA is as good in bed as she is on stage."