UnNews:McCartney offers Heather Mills "a nice shoe"
Jump to navigation
Jump to search
17 October 2007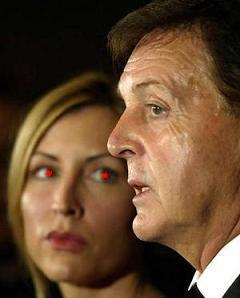 IT HAS BEEN REVEALED THAT former Rolling Stones frontman Paul McCartney has offered his estranged wife (the evil) Heather Mills a divorce settlement of a new shoe, Unnews reported next week.
Quoting a series of authentically fabricated sources, Unnews said that Sir Paul initially offered Mills a "nice, sensible walking shoe", but Mills's legal team had negotiated that up to "a durable, waterproofed hiking boot". One source suggested that "with the inclusion of a thermal sock we may be tantalisingly close to a deal".
"Whilst the acrimonious negotiations have been dragging for months and months and months and months and months Heather has finally managed to get them to hike the package up to a nice hiking boot," the fictitious source told Unnews.
Media reports have suggested that (the evil) Heather Mills, 39, was seeking up to three shoes, each to be supplied with a lifetime supply of appropriate polishes and cleaning products. Sir Pauls team rejected these claims "as outrageous" and threatened to have the money grabbing trollop killed.
Heather hilariously lost a leg a while ago.
Sources
[
edit
]
come on, say it with me GREED IS GOOD "greed is good" GREED IS GOD, October 17, 2007