UnNews:Man masturbates wildly to internet pornography and cums all over Pat Buchanan
Jump to navigation
Jump to search
27 February 2009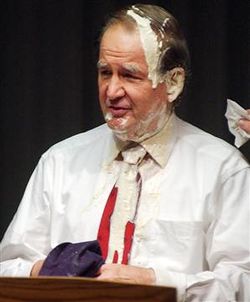 Upstate, New York - Sources say that around nine o'clock at night, a man in the Jefferson County area masturbated wildly to internet pornography and prematurely came all over the famous political commentator, author, syndicated columnist, politician and broadcaster, Pat Buchanan.
Pat Buchanan was found the next day at a bowling alley still covered with the man's semen. "He pulled his pants down and started masturbating." grimaced Pat Buchanan. He continued, "I think he watched something called Hard Ticket to Hawaii. There sure wasn't any hard tickets in that flick!"
When asked why he was trespassing on the man's house, Pat Buchanan unexpectedly pulled his pants down and began to furiously masturbate. I subsequently had Pat Buchanan's semen all over my face. When asked by my colleague why I had Pat Buchanan's semen all over my face, I pulled my belt off, whipped my colleague on the face with it, and then coerced him to quickly pull down my pants and underwear. He then gave me a slow hand job. When semen started squirting from my penis, I carefully made sure that every drop landed on his face.
I'm not sure why I did that.
Sources
[
edit
]