UnNews:Man flies across Rio de Janeiro using a catapult
Jump to navigation
Jump to search
4 May 2012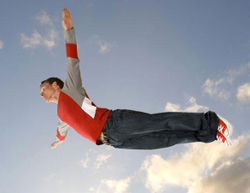 RIO DE JANEIRO, Brazil -- Looking for an exciting way to spend your summer vacation? Forget jumping off Brazil's highest waterfall or most ginormous Jesus' statue, and don't even bother trying to get hooked up with some gnarly shemale. The only real way to get your adrenaline fix this summer is to streak across the skies of Rio de Janeiro having been catapulted over the city, just like the imbecile pictured here.
Yves "Slingshot" Rossy, a laid off former French catapult maker, spent just under 2 minutes in the air after being flung from one side of the city by a catapult that he actually made himself using two palm trees and a hammock. After starting the flight by cutting the rope holding back the contraption, Rossy cruised past the city's iconic Christ the Redeemer statue before crashing back down to earth at Copacabana beach. The flight represents the first time anyone's ever flown past the statue without using an airplane. Coincidentally it is also the first senseless death attributed to such bird-brained lunacy.
This wasn't Rossy's first flight either – he once catapulted over the Grand Canyon – but this is definitely his last. We think that being a human cannon ball is pretty absurd and we've hardly ever seen anything dumber. After all, flying through the skies of Brazil is one thing, but doing it without a parachute is bat fuck insane.
Sources
[
edit
]