UnNews:Local man rescues dozens from vampire peacock
Jump to navigation
Jump to search
14 June 2008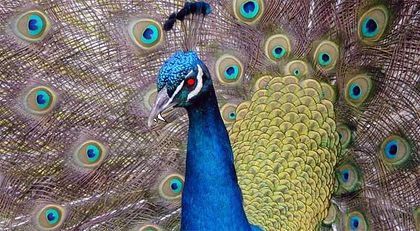 STATEN ISLAND, NEW YORK - A local man is being hailed as a hero today, after rescuing dozens of fast food patrons from a bloodthirsty vampire. Despite the fact that the vampire had cleverly disguised himself in the form of a harmless peacock, the man, a teen in his early twenties who humbly refused to give his name, managed to confront and subdue the creature long enough for trained professionals to arrive on the scene. "I just saw this peacock walking into the parking lot," said the savior of an entire Burger KingTM. "I didn't really think much of it at first, we get peacocks escaping from the zoo all the time. But then I noticed that this particular peacock had no reflection in the window of the best fast food place in town, Burger KingTM. Also, he had blood dripping from his fangs, which you rarely see with the fangs of normal peacocks."
The sect member of the church of good samaritanism chose to forgo the traditional methods of vampire defense, resorting to punching and kicking every part of the demon-bird that he could. "It was awesome!" said bystander Timmy O'Toole, age 8. "One minute I was enjoying my BK Big Kids MealTM, which now comes with 6 chicken fingers, and the next thing I knew this guy was karate-ing this really gay-looking turkey all over the place! Cool!" Restaurant-goers inside the fine establishment acted quickly, rushing to the man's aid and bringing a large amount of Burger King'sTM new garlic fries (now trans-fat free!). Despite the additional help, the hero still fought ferociously with the beast until backup arrived in the form of a local vampire-hunter.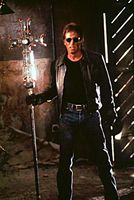 James Woods, known for his shark-like tenacity, was quick to arrive on the scene. Well-liked for his record as a vampire killer and his snappy dress sense, Woods and his sidekick (one of the lesser known Baldwin brothers, it was tough to say which. It might have been Stephen, he had a little bit of a goatee. Wait, which one was in The Usual Suspects? Because it wasn't that one. Was that Daniel or Stephen? I think this one was in Backdraft, or maybe Weekend at Bernie's 2. I can't even think of the other one's name...is it Frank? Yeah, that's the one, Frank Baldwin) quickly used some sort of large T-shaped object to summon the power of Jesus and his pals. Since all vampires are Jewish, this caused the beast to be immediately destroyed. "It's just another day's work," said the mystery Baldwin (Frank? Fred?). "Today it was a peacock, tomorrow it will be a puppy or an old lady. These vampires are getting more and more clever with their disguises." After the creature was destroyed, both Woods and Baldwin retired to the Burger KingTM for a well-earned WhopperTM.
Sources
[
edit
]