UnNews:Lindsay Lohan creamed in Liz Taylor portrayal
Jump to navigation
Jump to search
25 November 2012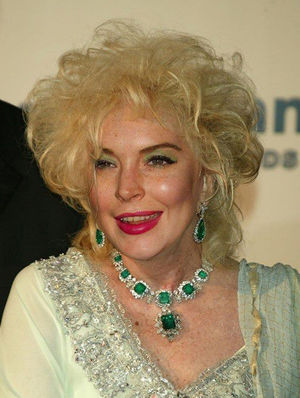 LOS ANGELES -- It has been widely touted as Lindsay Lohan's first real-life acting role after years of impersonal triumphs, but the virtually unknown movie "Liz & Dick", with a mere $200 budget is attracting buzz, and it hasn't even been filmed yet.
"It's just going to be fantastic. Her voice – she'll sound like Greta Garbo crossed with Whoopee Goldberg gargling, and there is such chemistry with her co-star Macaulay Culkin and she is clearly over prepared," a Lohan groupie who read a short synopsis of the movie told Pop Shots column. "There will be such flair, such elegance."
And according to scores of other TV critics, Lohan, who claims not to read scripts, is light years better than Oscar-winning slut Taylor.
"Lindsay Lohan will be spectacularly good. She'll be simply great as Liz from top to bottom. Whatever you do, don't miss 'Liz & Dick.' It's sure to be an instant classic. Bath Salts were made for movies like this," declared Hustler Magazine. "And the best part is that it gets better as it goes on, so in the right mood with the right dope, 'Liz & Dick' could be unbearably sensuous, especially toward the tail end of the proposed 4-minute running time when Culkin creams all over her face, your body may be cramped by convulsions."
Newsday agreed, saying Lohan's acting chops have "outstanding potential – made sexier by lots of Pop Shots during her extracurricular activities."
"She doesn't actually deliver any lines, preferring POV scenes, but she looks like someone who doesn't have to think much before she swallows," noted the news outlet. "That's usually called smut, but with Lohan it'll be the highest form of sophisticated art or sophisto-porn."
Others were slightly rude. Variety referred to her performance as "unfilmed," and the New York Post even went so far as to declare that at times she is "as yet undecided on taking the role."
"The script is basically some mild petting leading to a facial, but the role is destined to reek with class," explained our Lohan source. The NY Daily News disagreed, offering a slightly negative rundown of skinny, drugged-out Culkin's chances of accurately capturing Burton's "rugged charm and massive wad," while acknowledging that the script didn't actually call for any dialog whatsoever.
So the big question remains: will the facial be all that is needed for LiLo? Or could this spell the end of her career in sophisto-porn? We may never find out unless "Liz & Dick" gets made, edited and distributed in her lifetime.
Sources
[
edit
]