UnNews:Killer Elvis poo to go under hammer
Jump to navigation
Jump to search
15 July 2013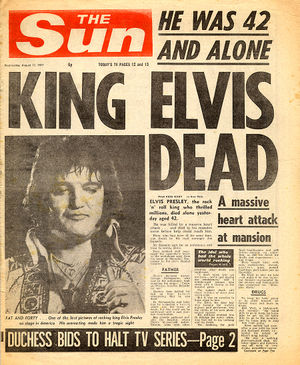 The bowel movement that put an end to the life of Elvis Presley is set to go under the hammer at Christie's in New York.
The 6lb brown monster, which belongs to the estate of the King of Rock and Roll's former plumber, is expected to attract bids of up to $10,000.
The turd has long been a source of conflict, with many Elvis fans openly reviling it, while others added it to their itinerary of the various pilgrimage sites around Memphis.
Elvis digestion expert Dr Joanna Corey explained: "Many call the stool Elvis' Yoko Ono, but for others it's a poignant reminder of what we lost in the bathroom of Graceland that fateful day in 1977.
After Elvis' death, the poo fell into the hands of Memphis plumber, Ray "The Duke" Legakis, and he kept it at his home, in the very toilet bowl in which it was originally deposited.
After Legakis' death in 1988, his family elected to exhibit it at the Elvis Presley Commemoration Center, but it was subject to several attacks. In 2006, one crazed fan succeeded in pulling the chain, and the turd had to go under considerable restoration work before it was ready to be displayed again, this time in formaldehyde.
The auction is due to take place this weekend, and Legakis' daughter said, "It hasn't been an easy decision. This poo was part of my childhood - my dad used to wheel it out every Christmas and Thanksgiving. But now it's a chance for someone else to enjoy it. Plus I am ten grand short on putting a down payment on a house."
Sources
[
edit
]