UnNews:Kevin Sama not guilty of his warcrimes!
Jump to navigation
Jump to search
Sunday, March 21, 2021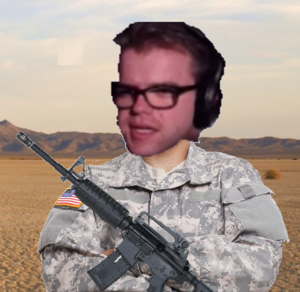 Popular gamer (war criminal) has been announced innocent after some people said "He's innocent ".
Kevin Sama (born 4.20.69) has served in Iraq for 5 years, before he was taken to trail for randomly shooting civlians.
"I didn't know that geneva convention exists. General never taught me about it" said Kevin in an interview. His General, _Просто_kouba_, has been taken to trail for being stupid and not teaching about war crimes. The Koubas trail has ented 5 years ago, with 20 years in a gulag.

There was rumors that Kevin shot random civilians on the street, but everyone spreading those rumors has disappeard.
Just before judge hit the desk with his sledgehammer a random citizen named "ScoraX" and some more random dudes have entered and they said that "He's innocent or you lose your job". The judge jumped and his sledgehammer fell and broke into pieces, so the judge declared Kevin innocent.
"Wait, are you guys civilians?" asked Kevin during an interview, after that question our reporters have dissapeared.

"This is a certified bruh moment" described Obama.